Having taken refuge in PowerColor's wonderfully temperature regulated room, we cast our eyes over some of the company's latest designs.
First up is a passively cooled Radeon HD 5750, carrying PowerColor's "Go! Green" branding. Engineered for environmental friendliness, the card features and additional PCB layer to the reference 5750 design for improved power distribution and a high-end Volterra VRM, making it 20% more efficient than standard implementations. This card is available now and comes at premium of around £15-20.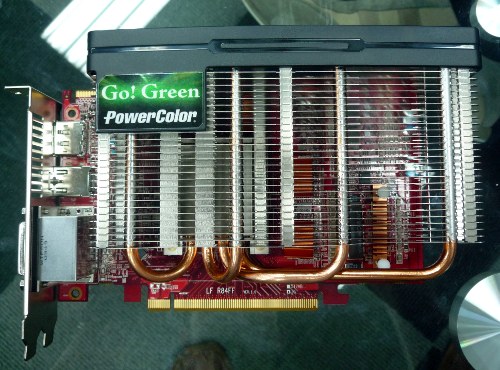 For the frag freaks, PowerColor has collaborated with NIC manufacturer Bigfoot Networks to deliver a 2-in-1 card that carries both an HD 5770 and a Killer2100. Dubbed the Radeon HD 5770 sniper, the NIC is attached to the PCIe terminus via a bridge chip. Both graphics card and NIC present themselves as separate devices so device drivers won't prove a problem. For those that think they'll get some benefit out of a hardware-offload NIC, the card, coming out in July is expected to provide around a £35 saving over buying a GPU and Killer2100 separately.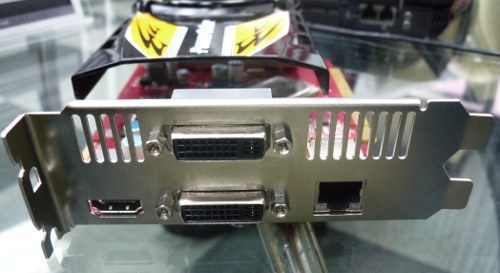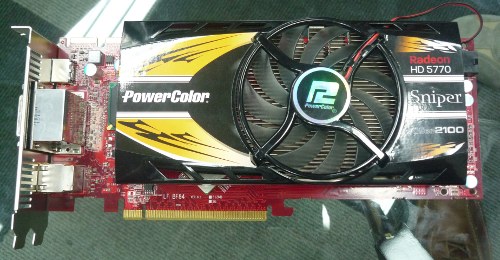 Catering to the media centre crowd, PowerColor is offering up the world's first low profile HD 5770 with GDDR5. The core/mem clocks have been set at 875/1225MHz making it a competitive card for the low-profile market.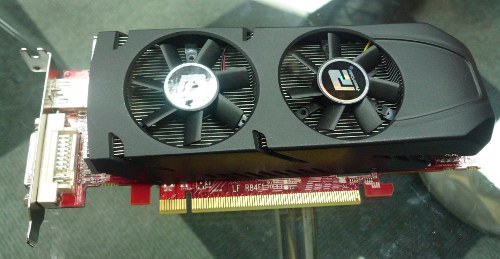 Our penultimate card is the Radeon HD 5770 Evolution, which sports a Lucid Hydra chip enabling flexible multi-GPU support no matter the chip maker. It's offered up on a reasonably sized PCB with core and mem clocks of 850MHz and 1200MHz respectively. At present we couldn't coax a price or shipping date our of PowerColor, but we'll let you know as soon as we do.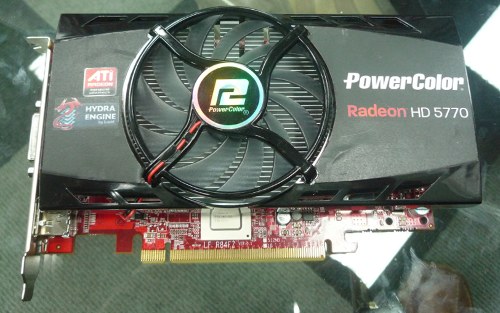 And finally, for the watercooling crowd, we have the FC5870 V2. The V2 features an improved board layout and updated waterblock (old and new cards shown top and bottom respectively in the below picture) to make it easier to work with. It comes clocked at 950MHz core with a factory set overvoltage, and should go past 1GHz with no problems, we're told. Expect a £70-80 premium on this card.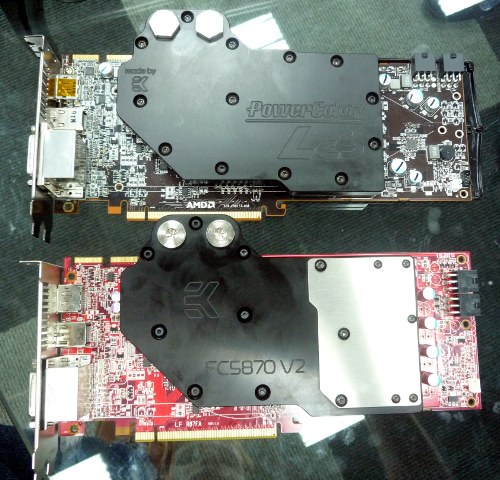 The only snag to this heavy mutha is that... well... it's a heavy mutha, but PowerColor's thought of that and is making available an adjustable plastic pillar that can help stop the card bending itself into oblivion. We hear it will eventually be bundled with new cards, but presently it's available separately for a few quid. We're perturbed by a card that needs such structural support, but we're sure some will find it distinctly manly.