The 2GB Radeon HD 5870 party got under way last week with the introduction of Sapphire's TOXIC edition, and ASUS is today following up with a card it reckons is the "freshly appointed king".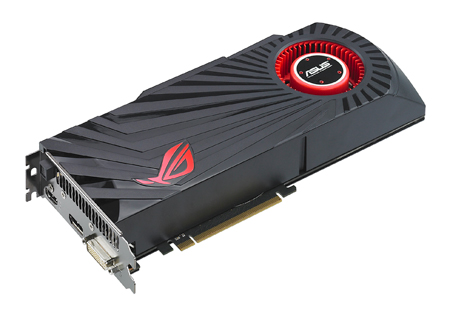 It's called the Republic of Gamers 5870 Matrix, and as the ROG branding suggests, it's a souped-up take on AMD's fastest GPU to date.
Using a custom PCB, ASUS has attached a 2GB GDDR5 frame buffer to the GPU, and though the memory runs at a standard 4,800MHz, the GPU is pre-overclocked to run at 894MHz - a 44MHz increase over AMD's reference design.
A healthy bump, but seemingly conservative in comparison to Sapphire's TOXIC edition - which remember runs at 925MHz and 5,000MHz, respectively, for core and memory frequencies.
Instead, ASUS throws in what it calls its Super Hybrid Engine (SHE), an automatic overclocking function that promise an average performance boost of 19 per cent whilst gaming at high detail. We'll have to see real-world figures to judge how effective SHE really is, but there's plenty of more overclocking goodies added to the mix, too.
The card's said to feature a 10-phase vGPU and 2-phase vMem, along with independent voltage controllers, and the card-mounted voltage measurement points - combined with ASUS's iTracker2 and ProbeIt software solutions - provide the overclocking crowd with a little extra control.
On top of all that, there's a custom cooler that promises a 22 per cent higher air flow than AMD's reference design, resulting in temperatures dropping by "at least" 13 per cent, says ASUS.
All sounds rather nice, but really, where's the machine gun?
No word on pricing or availability as yet, but we'd expect the card to come in at around the £400 mark.