Most NVIDIA partners have opted to stick with reference designs for the all-new GeForce GTX 480 and GTX 470 graphics cards, but the same can't be said for EVGA.
In addition to its standard cards, the California-based manufacturer has already introduced both factory-overclocked and liquid-cooled alternatives as part of its SuperClocked and FTW product lines.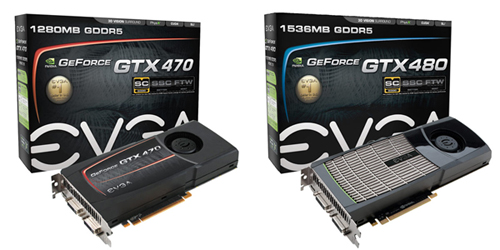 The company's SuperClocked cards, available in both GTX 470 and GTX 480 flavours, retain NVIDIA's reference cooler but raise clock speeds across the board.
A little worrying, considering we found the cards capable of hitting temperatures of over 90°C at reference speeds, but EVGA's bump in speeds shouldn't be enough to cause problems.
The GeForce GTX 470 SC raises GPU clock speed from 607MHz to 625MHz, shader frequency from 1,215MHz to 1,250MHz and comes armed with a 1,280MB frame buffer clocked at an effective 3,402MHz - up from 3,348MHz on a standard card.
The GTX 480, meanwhile, sees similar jumps throughout. The card's GPU is pre-overclocked from 700MHz to 725MHz, the 480 stream processors jump from 1,401MHz to 1,450MHz and the 1,536MB of GDDR5 memory rises from 3,696MHz to 3,800MHz.
A healthy all-round increase for what are already NVIDIA's fastest-ever GPUs, but if that just won't do, EVGA's liquid-cooled HydroCopper FTW editions raise the bar even higher.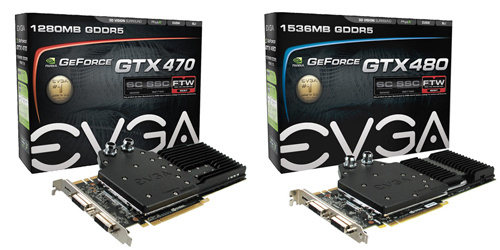 Featuring a HydroCopper waterblock manufactured by Swiftech, the FTW editions manage to raise clock speeds by a substantial amount.
The GeForce GTX 470 FTW comes pre-overclocked at speeds of 650MHz, 1,300MHz and 3,402MHz for the core, shader and memory, respectively. A healthy leap from NVIDIA's reference 607MHz, 1,250MHz and 3,348MHz.
The top-end GeForce GTX 480 FTW - which, on paper has the makings of the fastest single-GPU card to date - comes clocked at 750MHz for the core, 1,500MHz for the shaders and 3,800MHz for the GDDR5 memory.
Don't expect to find stock for at least a week or two, but EVGA has revealed U.S. pricing for its complete GeForce GTX 400-series range as follows:
EVGA GeForce GTX 470 - $349.99
EVGA GeForce GTX 470 SC - $369.99
EVGA GeForce GTX 470 FTW - $499.99
EVGA GeForce GTX 480 - $499.99
EVGA GeForce GTX 480 SC - $529.99
EVGA GeForce GTX 480 FTW - $649.99