We've been patiently awaiting the arrival of MSI's Radeon HD 5870 Lightning edition, but the Taiwanese manufacturer has sprung a surprise by launching an interim alternative in the form of its Radeon HD 5770 Hawk edition.
MSI's latest, pictured below, is a range-topping addition to the HD 5770 line and offers a few useful upgrades from ATI's reference design.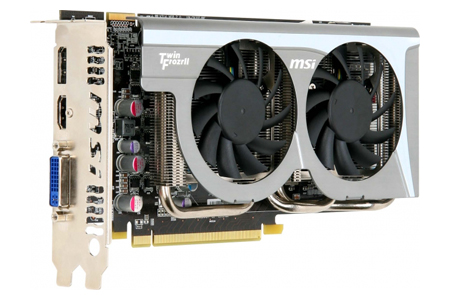 The card's GPU comes factory overclocked at 875MHz - up from 850MHz - and features 1GB of GDDR5 memory clocked at an effective 4,800MHz.
Not a major boost in terms of out-the-box performance, but MSI's Hawk edition is all about providing stability to overclockers. If you're inclined to crank up the voltage, you can look forward to the card's 7+1-phase PWM (as opposed to 4+1 on ATI's reference design), MSI's promise of military-grade components and the company's custom Twin Frozr II cooler.
MSI reckons all the aforementioned paves the way for overclocking headroom of about 20 per cent. There's an external multimeter that'll allow you to check voltage measurements on the fly, and MSI bundles the card with its Afterburner overclocking software.
All features you'd expect to see on the ultra-high-end Lightning edition cards, so what will all this tweaking do to the Radeon HD 5770's likable mainstream price? Well, given MSI's suggested retail price of £153, it'll add about £30-£40 to the cost of a reference, stock-clocked model.
We're told to expect UK availability on February 7th, but if you just can't keep your credit card restrained, MSI's Radeon HD 5770 Hawk is available to pre-order from SCAN.co.uk* at a cost of £152.74. Though, it's worth remembering that ASUS's HD 5770 Voltage Tweak and Sapphire's HD 5770 Vapor-X are both available for less. Decisions, decisions.
*As always, UK-based HEXUS.community discussion forum members will benefit from the SCAN2HEXUS Free Shipping initiative, which will save you a further few pounds plus also top-notch, priority customer service and technical support backed up by the SCANcare@HEXUS forum.