We already know that AMD plans to double up on its Radeon HD 5000-series GPUs with the introduction of the Radeon HD 5970 - a single-PCB card equipped with a pair of the company's range-topping Radeon HD 5870 GPUs - but what about a 5850 X2?
With AMD reportedly doing away with its X2 nomenclature, we recently conjectured that a card equipped with a pair of 5850 GPUs is likely to surface as the ATI Radeon HD 5950.
Such a card has been rumoured to be making an appearance later this month, but AMD has thus far refrained from confirming its existence. Fortunately for those wanting confirmation, the cat's out of the bag with alienbabeltech.com picturing what appears to an early engineering sample of the card itself. Here it is pictured alongside a standard Radeon HD 5870.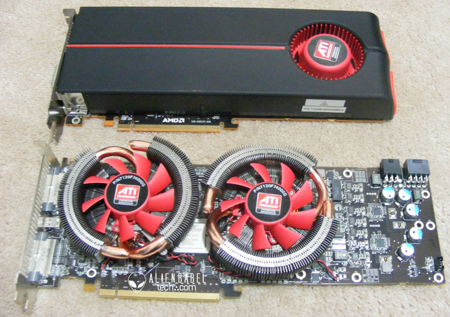 The Radeon HD 5950 is said to measure 12in in length, making it almost as long as the massive Radeon HD 5970.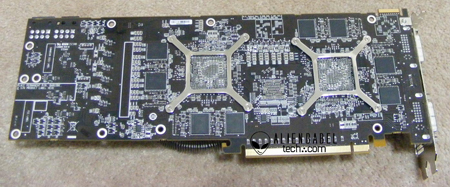 Each Radeon HD 5850 GPU is said to be equipped with 1,440 processor cores, but there's no mention of GPU, shader or memory frequencies yet.
Although we expect the card's final appearance to change, this sample comes equipped with both dual-link DVI and mini DisplayPort.