AMD has introduced its next-generation DirectX 11 graphics cards and its partners have revealed a wave of cards based on the Radeon HD 5000-series architecture.
First and foremost, Sapphire is kicking things off with two new products in the form of its Radeon HD 5870 and Radeon HD 5850. Both products are equipped with a 1GB frame buffer and stock frequencies. At launch, there isn't a whole lot differentiating one Radeon HD 5000-series card from another. But, if you're interested in artwork, here's what you'll find on Sapphire's cards: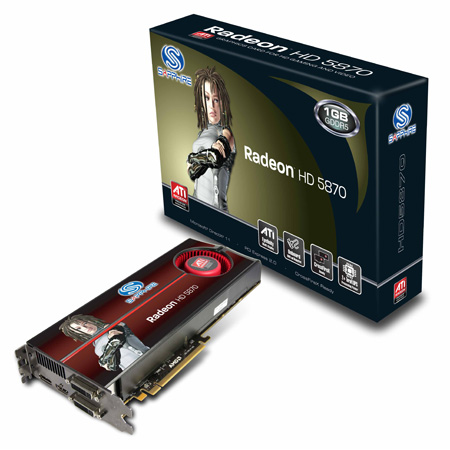 Both the Radeon HD 5870 (pictured above) and Radeon HD 5850 (pictured below) are equipped with dual-DVI, HDMI and DisplayPort outputs - all compatible with ATI's Eyefinity technology.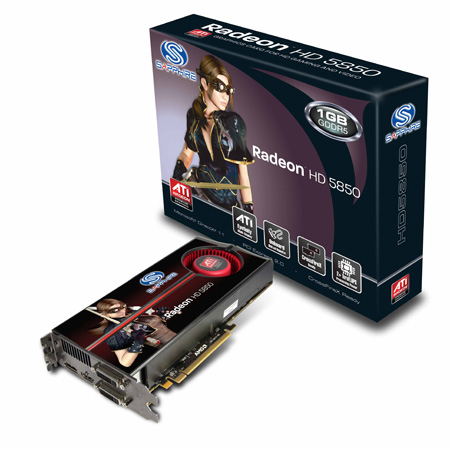 What's useful for consumers is that Sapphire's cards will initially ship with free coupons for Codemasters' Colin McRae Dirt 2 and Eidos' Battlestations: Pacific. Keep an eye out for the game-edition cards, Sapphire's packaging will be clearly marked.
Sapphire tells us it will launch customised derivatives in "the coming weeks" - including the Vapor-X model seen in our latest competition - but for the meantime, Sapphire's Radeon HD 5870 and Radeon HD 5850 are available to order from SCAN.co.uk* priced at £318.87 and £208.52, respectively.
Want to know what to expect from AMD's latest? Check out our in-depth review.

*As always, UK-based HEXUS.community discussion forum members will benefit from the SCAN2HEXUS Free Shipping initiative, which will save you a further few pounds plus also top-notch, priority customer service and technical support backed up by the SCANcare@HEXUS forum.
Official press release: SAPPHIRE LAUNCHES HD 5870 and HD 5850