It's no secret that both AMD and NVIDIA are preparing to launch a wave of next-gen graphics cards supporting Microsoft's DirectX 11 API, but details remain few and far between.
However, those keeping an eye on the rumour mill might be led to believe that AMD's gearing up to officially announce its next-gen R800 parts on September 10th, with retail availability expected just weeks after.
We've yet to hear of any concrete launch plans ourselves, but the folks over at Chinese website Chiphell.com claim to have captured one of AMD's first DirectX 11 cards on camera.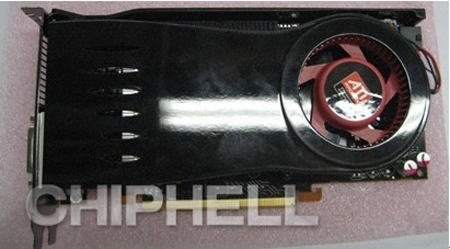 The big black cooler doesn't tell you a whole lot, and it's not too dissimilar to the existing Radeon HD 4770 in terms of design - suggesting that this is one of AMD's upcoming midrange offerings.
Aside from a few memory chips, there isn't a whole lot of info to go on at the back, either. Image quality is such that we're unable to read the text on the all-important green label.

It looks like a very early sample, but AMD's design could feature dual DVI ports, as well as HDMI and DisplayPort, too.
Not a whole lot to go on right now, folks, but if you're planning on a graphics card purchase, this might give you something else to consider. There's no doubting that a selection of DirectX 11-supporting cards from both NVIDIA and AMD are coming soon. Worth waiting for, perhaps?