We've seen a few NVIDIA partners introduce GeForce GTX 275 graphics cards with 1,792MB of on-board memory, and ZOTAC has today joined the act.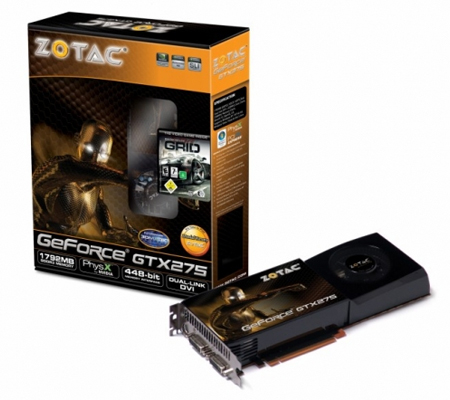 ZOTAC's card, pictured above, is armed with double the amount of memory on NVIDIA's reference design - that's 1,792MB, up from the standard 896MB.
Elsewhere, however, it's a by-the-book solution as frequencies remain unchanged. ZOTAC's card ships with a core at 633MHz core, 240 shaders at 1,404MHz and its whopping-big serving of GDDR3 memory at 2,268MHz.
It might be deemed overkill, but ZOTAC reckons the large amount of video memory will "usher in a new era of high-resolution gaming".
Useful, maybe, if you're powering big displays at 2,560x1,600, but we reckon the card will reach store shelves with a price tag of over £250. If so, it may struggle to make sense alongside 896MB GTX 275s as they're creeping down to £170.
Official press release: ZOTAC Expands GeForce® GTX 275 Family