We've been impressed by Sparkle's booth at this year's COMPUTEX, and in addition to the impressive CUTI n30 HTPC, it's also showing off a prototype version of its Calibre GPU cooling system.
It's called the Calibre IDF Dual Fly, and it essentially adds a motor to the existing dual-fan Calibre design.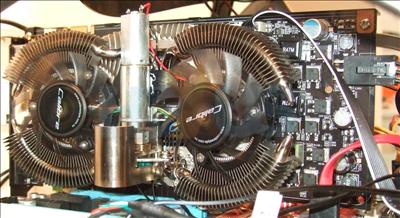 Should the graphics card get warm and reach a certain temperature, the motor will automatically angle the fans to provide a better spread of airflow and improved overall cooling. That's the theory, at least.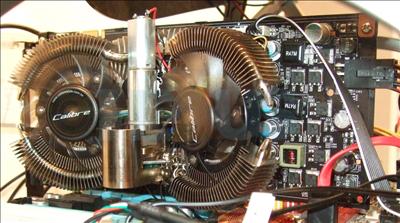 It's worth noting that existing Sparkle Calibre cards allow for the fans to be adjusted by hand, the IDF Dual Fly Cooling System just makes the whole process look so damn cool.
Trouble is, it doesn't quite seem feasible. Sparkle tells us that it doesn't currently have plans to bring the technology to retail, and that's understandable. The cooling benefit, we reckon, is likely to be negligible, and it'd be a whole lot easier to ship the card with pre-angled fans.
Nonetheless, we wouldn't mind seeing a limited run as it certainly made the geek within us grin from ear to ear.