Remember the ASUS MARS GTX 295 we mentioned late last week? Well, the monster card is out on display at COMPUTEX '09 doing what it does best - breaking benchmarks and scaring little children, and probably women, too.
The dual-GPU monstrosity doesn't do justice to its measly '295' nomenclature. No sir, the traditional 295 we've all come to know but can't afford is now something of a has-been as ASUS' MARS derivative sandwiches two GTX 285 PCBs (printed circuit boards) into a single card, making it effectively faster than Usain Bolt.
Curious to see ASUS' internal SLI'd jiggery-pokery? Here it is for all to see:

According to ASUS, this "performance king" outruns a reference GeForce GTX 295 - which, remember, features two lesser GTX 200-series GPUs - by around 23 per cent. Benchmark enthusiasts may be interested to know that the card scores 11,292 in 3DMark Vantage.
What you really want, though, is a setup like this: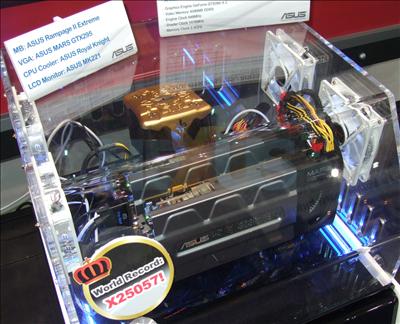 That's 8GB of graphics memory right there. We almost felt insignificant in its presence. Then again, most of the event's other graphics cards probably feel the same way too. No word on pricing or availability, but an ASUS spokesperson did laugh when we suggested it wouldn't be cheap. That's surely an ominous sign.