Somewhat like the proverbial London buses, you get one Radeon HD 4890 card released with the magical 1,000MHz core speed and another two come along at once.

Sapphire launched the Radeon HD 4890 ATOMIC earlier this week, equipped with a custom Vapor-X cooler and clocked in at 1,000MHz core and 4,200MHz memory, up from the default 850MHz/3,900MHz.

PowerColor has seen Sapphire's antics and done what technology companies do best, that is, rain on someone else's parade.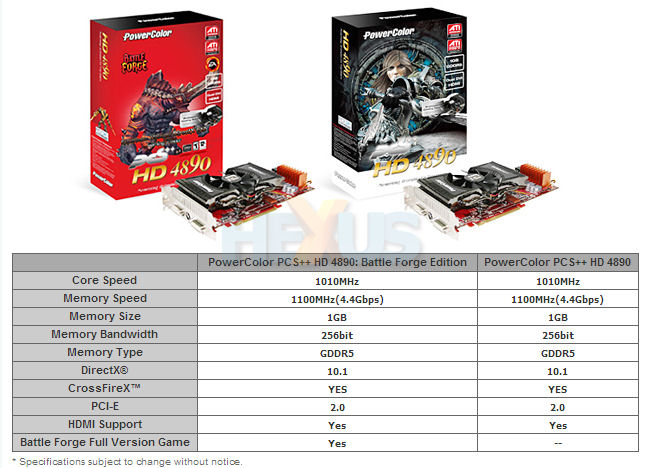 Equipped with the ZEROtherm heatsink that's proven to be better than the reference heatsink when evaluated in previous HEXUS reviews, PowerColor will release two versions of the PCS++ HD4890 - a standard model and one with BattleForge thrown in for good measure.

Both are clocked in at 1,010MHz core and 4,400MHz memory and are recipients of an upgraded PWM design, according to the company. That

should

make them the fastest Radeon HD 4890s around. Sapphire, can to respond?

No word on pricing or availability, but expect it to cost more than £200. Trouble is, recent price-cutting in the high-end space has pulled down Radeon HD 4850 X2 2,048MB pricing to £227 and Radeon HD 4870 X2 2,048MB to £264. - and both are intrinsically faster GPUs.