The new Radeon HD 4890 GPU is sure to be taken up by all of ATI's partners, but the inherent problem for any consumer looking to purchase one in the first week of launch is how to differentiate competing manufacturers' cards on anything other than price and, maybe, bundle.

The initial batch of cards is practically all the same, save for a slight clock-bump here or there.

ASUS is going for something different with its Radeon HD 4890, it seems. Ostensibly the same card as everyone else's, the graphics' giant is adding a 'Voltage Tweak' feature, seen before, which lets you increase VCore from the standard ~1.3V to around 1.45V, for better overclocking, the company claims.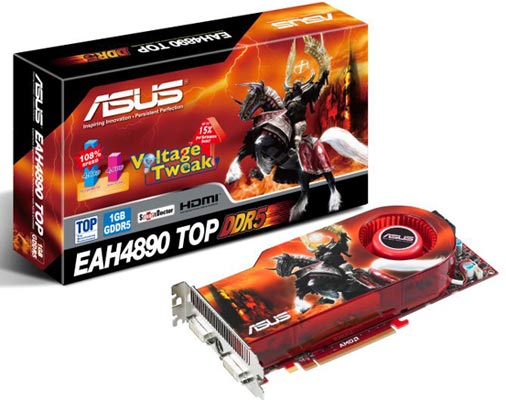 The Voltage Tweak Edition will ship with both XT and OC speeds of 850MHz/3,900MHz and 900MHz/4,000MHz, respectively, but should go farther when over-volted via the supplied ASUS SmartDoctor software. Here's hoping for a 1GHz+ core.

Pricing, too, seems competitive, with the regular card available now for £211, including VAT and delivery. It's our favourite Radeon HD 4890 thus far, but we wait for the MATRIX edition with bated breath.