Gainward is hailing its latest extreme concoction as the world's fastest custom-designed Radeon HD 4870 X2, and it's quite the beast.
The card, pictured below, is dubbed the "Rampage 700 Golden Sample Goes Like Hell" - we kid you not - and features a core frequency of 790MHz and 2GB of GDDR5 running at an effective 3,800MHz.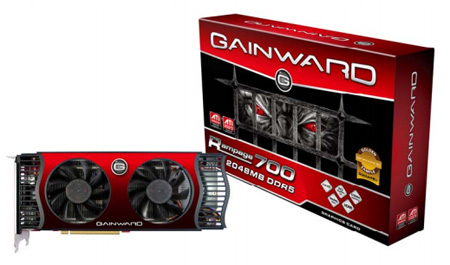 Despite its association with Hell, the blazing-fast card shouldn't be blazing-hot. It utilises a pair of PWM-controlled fans and four copper heatpipes to help keep it alive. What the above picture tactically hides is that the Rampage 700 Golden Sample Goes Like Hell's cooling solution occupies three PCI slots - making it one of very few three-slot graphics cards.
The tri-size back panel has room for DisplayPort, DVI, HDMI, and VGA connectivity. There's no mention of pricing, but a card hailed as the world's fastest isn't likely to come cheap.
Official press release: Gainward Rampage700 2048MB "Golden Sample" Goes Like Hell -The Fastest Card in the World!