It's hard work picking a graphics card these days - there are so many manufacturers making cards that are practically identical. There's always a selection of minor differences, ranging from core frequencies, custom cooling and levels of warranty, but the biggest draw, we feel, is the bundle.
There's nothing quite like buying a product and finding lots of other goodies in the box, and that's exactly what Point of View will be doing with its GeForce 9500 GT and GeForce 9600 GT.
Both will be available as part of a so-called "ultimate gaming bundle". The set will consist of a 512MB graphics card, a Philips amBX ProGamer kit and Ubisoft's Brother in Arms: Hell's Highway.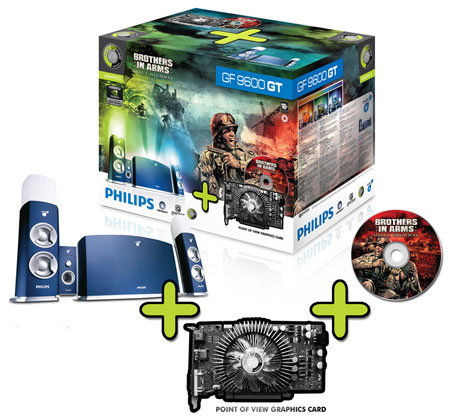 There's no word on pricing or availability yet, but it will of course cost more than just about any other GeForce 9600 GT bundle out there. Mind you, it looks a whole lot more interesting than any other bundle, too.
What do you think? Is the bundle an important factor? Could a complete kit such as the above be enough to sway you from the competition? Share your thoughts in the HEXUS.community forums.
Official press release: Point of View teams up with Philips amBX and Ubisoft for a unique PC gaming bundle