If you're in the market for a HTPC graphics card, you might want to take a look at AMD's newly-launched Radeon HD 4550 - a card that we concluded makes a reasonable stab at gaming and, on paper, has strong multimedia credentials.
AMD's reference Radeon HD 4550 provides 80 stream processors, a core clock speed of 600MHz and 512MB of GDDR3 memory clocked at an effective 1,600MHz. However, it appears to be making its way to market in two unique flavours. The first is a full-height card with passive cooling and the second is a half-height card actively cooled with a small-mounted fan.
Sapphire's first attempt, pictured below, is of the latter variety. It provides a reference 600MHz core, 512MB of overclocked GDDR3 running at an effective 1,800MHz and a stand-out all-blue PCB.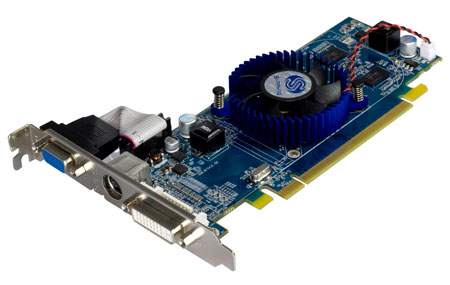 The card should arrive at the bargain-basement price of around £30-£35, and it should prove to be popular among the HTPC crowd. Though, you might want to hold out for the passive solutions that will no doubt be popping up soon.
Official press release: TWO NEW GRAPHICS FAMILIES FROM SAPPHIRE
Useful link: Review: AMD Radeon HD 4550: budget bonanza?