The discrete 3D graphics market consists primary of two main players, NVIDIA and ATI, as you well know. However, just a few years ago it was a different story. 3DFX were still on the scene, Matrox had cards geared for gamers, and S3 were there too. 3DFX are gone, Matrox are still around, but not for gamers, so what about S3? They're looking to make a comeback with their new Chrome20 series of graphics cards.
They're going after the mainstream market; after the users who want to buy a graphics card, install it, and be able to go forth and play all their games at their monitor's native resolution at default graphics settings. S3G haven't been quiet without reason, they've been working on putting together a product which might help them score some of that mainstream market share.
Hexus had a chance to go behind the scenes and see S3 Graphics' new baby in the flesh manner of speaking.
It's all about power
The Chrome20 series of products use 90nm process technology. S3G have gone for low voltage and cool operating temperatures with Chrome20. They're also claiming the 'highest core clock of any GPU to date', though at the time of writing HEXUS doesn't have any clock speeds to share. However, what we do know is that it will have eight pixel shaders. Given the surge (if you'll excuse the pun) in concerns over power consumption, particularly with graphics cards and processors, performance per watt is the new buzz-phrase echoing around the tech-world and S3 are pitching high performance per watt as one of the key features of Chrome20.
Chrome20 products will be available as both mainstream desktop and mobile products, so if Chrome20 really does offer good performance with minimal power consumption, it could be a winner amongst laptop vendors. Looking at one other aspect of Chrome20's manufacturing process, you'll be finding a distinct lack of lead, that means ROHS compliance - well ahead of next year's mandated schedule.
Features
Chrome20 is by no means going to take on the high-end cards, instead looking to provide good performance for your more average user. S3G want Chrome20 to run games smoothly under standard settings. The media brief from S3G states this as being at 'full resolution', which presumably equates to the 1024x768 or 1280x1024 resolutions most users tend to run games at currently.
We were offered a chance for some hands on play with a mid-range Chrome20 series desktop board – the machine was loaded with over 40 top games. A quick run of Half Life2 , Far Cry , Halo and a couple of other titles demonstrated that S3G's new 90nm mainstream card was working without any visual problems and with very playable frame rates – this is the best solution they've had for quite a while and we are keen to get our hands on our sample. The board was a reference design with a tiny little fan-sink (see picture) supporting S3G's assertion that the power dissipation is very low.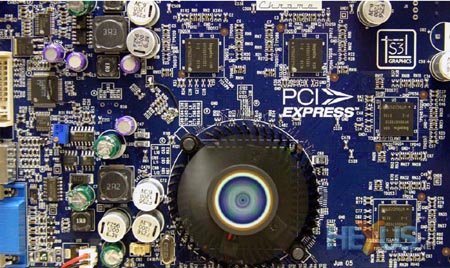 Looking beyond gaming, media playback is also a key feature of the Chrome20 series. S3 Graphics have pride in their hi-def support, with Chrome20 being no exception, supporting hi-def wide-screen and with enhanced HDTV connectivity. We suggested to S3G that they consider putting HDMI on their boards, but we had a 'no-comment' response, so we'll have to wait and see. For those of you not familiar with HDMI, standing for High-Definition Multimedia Interface, it's an uncompressed digital video and audio interface, backwards compatible with DVI. It's something we'll see more of on HDTVs, set top boxes, monitors and graphics cards in due course.
Chrome20 features a new 'Chromotion Programmable Video Engine' which S3 say delivers more features at a better level of performance. Of course, all of this is happening with the minimum of power consumption. S3G continued focus on the media playback and low power is going to make this series of products worth a close look for Home Theatre PCs and Media Center Edition PCs.
When?
We should see the Chrome20 series become available before the holiday season this year. Meanwhile, here's a little peek at a Chrome20 series PCIe card: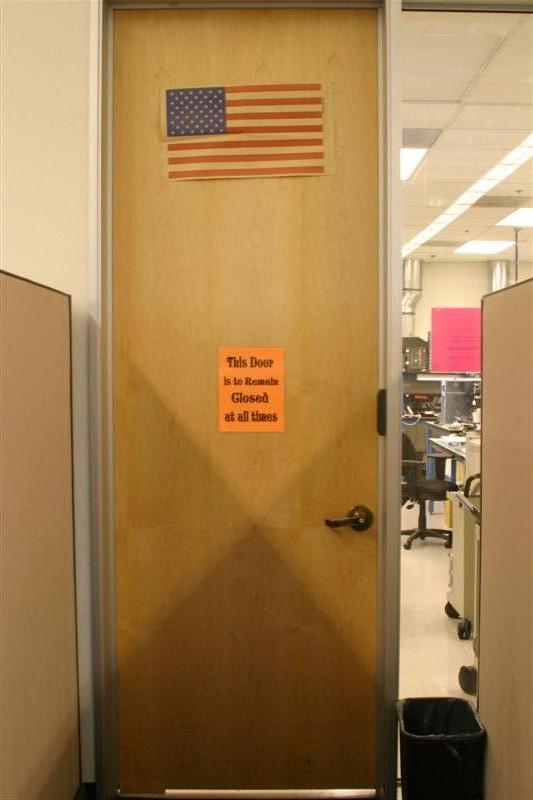 HEXUS was given a secret behind the doors look into some of S3G labs -but my trusty camera had to stay in my pocket! S3G has been investing in some serious high end emulation equipment which was being used to run real game code and benchmarks on a huge gate level model of their next generation chip!