AMD's Radeon HD 4870 X2 might be the world's fastest consumer graphics card, but load temperatures close to 100°C have left a number of users waiting for a decent water-cooled solution.
Well, good news folks, that solution is on the way from Canada's CoolIT Systems. The liquid-cooling specialist is working with AMD to develop a version of its Dual Drive Bay VGA Cooler for AMD's flagship graphics card.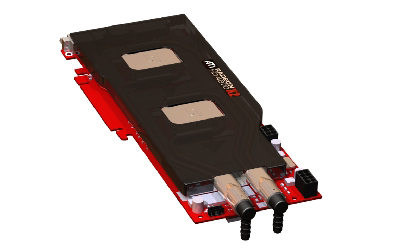 The cooler, pictured above, is said to have been designed to provide aggressive cooling, and CoolIT's internal tests showed stable overclocking potential of up to 13.5 per cent on core speed, and 11 per cent on memory.
Geoff Lyon, CEO of CoolIT Systems, said:
As the technology continues to evolve in advanced GPU technology, the value of efficient liquid cooling translates directly to the performance gains demonstrated in our lab. We recently benchmarked this card using 3D Mark Vantage and increased the Graphics score from X7125 at stock settings to X8148 which represents a performance increase of well over 10 per cent.
It all sounds like a tasty solution, but it isn't quite ready yet. CoolIT expects the product to become available sometime in September, and pricing is yet to be determined.
For those planning an all-conquering Radeon HD 4870 X2 CrossFire setup, this could be worth the wait.
Official press release: CoolIT Systems Unveils Extreme Liquid Cooling solution for ATI Radeon™ HD 4870 X2 Graphics Cards