We've been hearing rumours of a passively-cooled Radeon HD 4850 since AMD launched the card back in June.
However, with AMD's fan-cooled reference design providing load temperatures of 81°C, it just didn't seem feasible. Try telling that to PowerColor, though, who appears to be preparing a passively-cooled Radeon HD 4850 SCS3.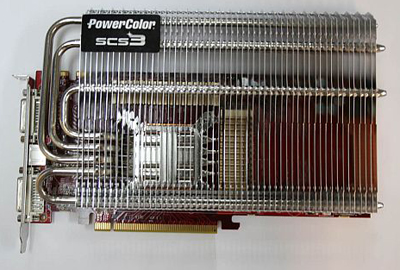 The card, pictured above, utilises 54 aluminium fins, an all-copper base and four heatpipes to help keep it cool. The high-rise design, however, rules out users with low-profile HTPC chassis.
Despite the size of the cooler, which will take up at least two slots, we're a little sceptic of its cooling ability. We'd recommend ample airflow if you intend to keep a passive Radeon HD 4850 from frying.
PowerColor is yet to officially confirm the card, and whether or not we'll see it at retail remains unknown.