Gainward today announced the arrival of its Radeon HD 4850 and Radeon HD 4870. Yep, that's right, this long running NVIDIA-exclusive partner is now best buds with the Red team, and no doubt less popular with the Green team.
The news might provoke a little grimace from the folks at NVIDIA, but it isn't all that surprising. Palit, who acquired Gainward a few years back, have been providing retail cards for both NVIDIA and AMD for as long as we can remember.
It was always only a matter of time before Gainward began to do likewise, and the performance-per-pound of AMD's Radeon HD 4000 series is likely to have been the product that gave Gainward the required nudge.
So, let's take a look at the cards shall we?
Gainward Radeon HD 4850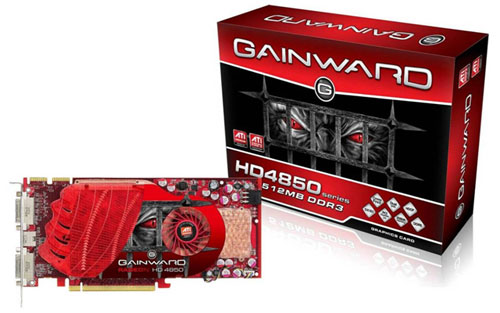 Gainward Radeon HD 4870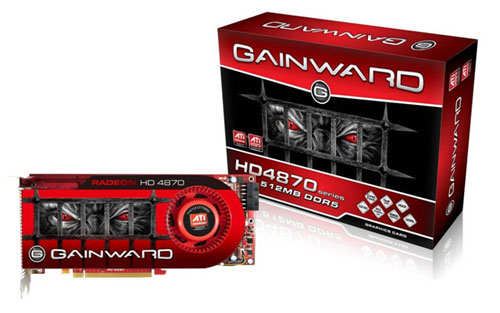 The red kinda suits Gainward, we feel. Sadly, the cards aren't anything out of the ordinary, they're in keeping with AMD's reference designs and the standard specifications are as follows:
Specifications

Graphics chip

ATI® HD4870

ATI® HD4850

Core clock

750MHz

600Mhz

Memory type

GDDR5

GDDR3

Memory Size / bandwidth

512MB 256bit

512MB 256bit

Memory clock

3.6GHz (900MHz*4)

1986MHz (993*2)

Output

2 * Dual-link DVI-I

2 * Dual-link DVI-I

Slot

2 Slots, PCI-Express 2.0

1 Slot, PCI-Express 2.0

New Technologies

ATI® CrossFire X™ technology
24x custom filter anti-aliasing (CFAA) and high performance anisotropic filtering
ATI® AVIVO™ HD technology
Unified Video Decoder 2 (UVD)
ATI PowerPlay™ Technology

ATI® CrossFire X™ technology
24x custom filter anti-aliasing (CFAA) and high performance anisotropic filtering
ATI® AVIVO™ HD technology
Unified Video Decoder 2 (UVD)
ATI PowerPlay™ Technology
Official press release: Gainward Rocks & Shocks the mainstream gaming world with the new ATI HD4870/HD4850 graphics cards