At a press-event held today in Malaga, Spain, ATI rolled out a succession of speakers to evangelise the benefits of its upcoming RV770 - Radeon HD 4850 and 4870 - architecture that, the company says, will revolutionise the mid-range graphics-card space.

Indeed, we took a very early look at a Radeon HD 4850 right over here, and if the 3DMark Vantage number is anything to go by, $199 (£125) sees a new price-to-performance champion.  

NVIDIA's in such a tizzy of what RV770 brings to the $199 table, that it's reduced the pricing of its GeForce 9800 GTX product by almost $100, down to a matching $199 and has further introduced a new SKU, the 55nm-based GeForce 9800 GTX+, at $229.

Radeon HD 4870, the higher-clocked part, supporting ultra-high-bandwidth GDDR5 memory, will retail for around $299, if reports are correct. That leaves NVIDIA with the recently-announced GeForce GTX 280 and 260 SKUs at the very top of the performance heap, priced at $649 and $399, respectively. ATI's HD 4870 may get close to GTX 260 performance, we reckon, but single-board dominance will remain with NVIDIA's big-and-hot chip for a while yet......or will it?

ATI has concentrated on delivering performance in the mid-range space. Optimising for a much smaller die-space than GTX 200-series infers that the only method of getting near, or beating, NVIDIA's single-GPU performance is by leveraging two Radeon HD 4870s together in CrossFire mode. That can be done with two distinct cards or, as with Radeon HD 3870 X2, with two GPUs on one board.

So what do you get when you place two enthusiast-class Radeon HD 4870s on one PCB? Well, coming back to the event in Spain, ATI had a black chassis sat in the corner, unplugged, lookin' all lonesome. It was only right to investigate when executives were busy metaphorically back-slapping each other on a job well done.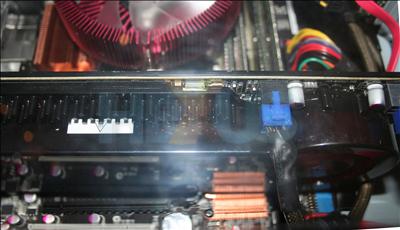 This is the much-talked-about R700, presented on a black PCB. The twin-chip design should output somewhere in the region of 2.4TeraFLOPs of floating-point performance and, taking an educated guess with a GDDR5 implementation, around 230GiB/s of memory bandwidth. In comparison, Radeon HD 3870 X2 on-paper math throughput is roughly 1TeraFLOPS and bandwidth around 115GiB/s, and NVIDIA's GeForce GTX 280's is 0.933TeraFLOPS and 142GiB/s.

You got to wonder just how much juice the card will consume. Conservative estimates put it at around 275W.

Due to go on sale in late July for between $499 and $599, R700 is ATI's answer to NVIDIA's monolithic-monster design. Of course, three GeForce GTX 280s can be harnessed together in three-way SLI, and it will be doubly interesting to see how they perform against two R700s in CrossFireX.

The high-end market just got really interesting again. We'll see the promise of R700 underscored by single-GPU Radeon HD 4870's performance numbers real soon.