At the start of the week we saw some accidental leaks from AMD with regard to the big yearly graphics driver update that has become a custom. Now the driver has gone official and become available after a slight delay due to WHQL certification. Additionally, AMD has got around to revamping its Radeon Software technologies pages with highlights from the new driver, and penned an illuminating gaming community blog post about it.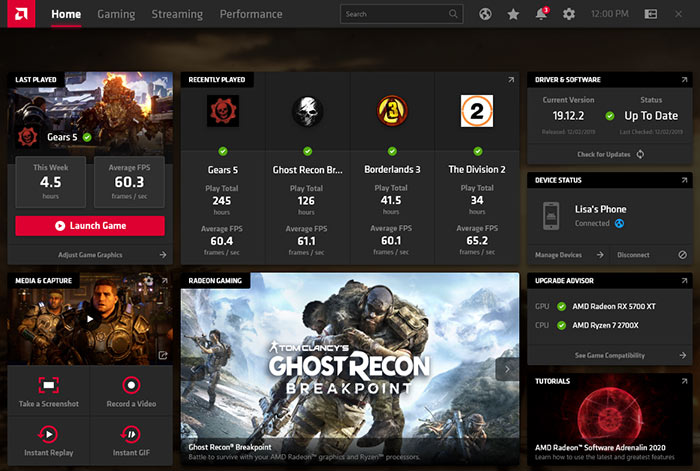 From our prior leak coverage, one might expect Radeon Boost and Integer Scaling to be the two biggest new features, and that is basically correct. However, AMD has done a lot with the driver utility UI to freshen things up and be more useful and intuitive, and existing features like Radeon Image Sharpening and Radeon Anti-Lag have been updated in various ways.
Radeon Boost is probably the biggest and most interesting change in AMD Radeon Software Adrenalin 2020 Edition. It works by dynamically lowering the game resolution when it detects fast user movement (monitoring mouse movement). This technique isn't entirely new as some games, like Gears 5, dynamically adjust resolution scaling but do so to maintain target framerates. Radeon Boost users can set the minimum resolution it will drop frames to when toggling it in the UI. It won't go lower than 50 per cent but one might want to stick it at a higher res, as even in fast moving scenes there are some screen elements that remain in clear focus - like your weapons in FPS titles. The various levels of resolution scaling are indicated in action by a quartet of green dots on the top left of your screen.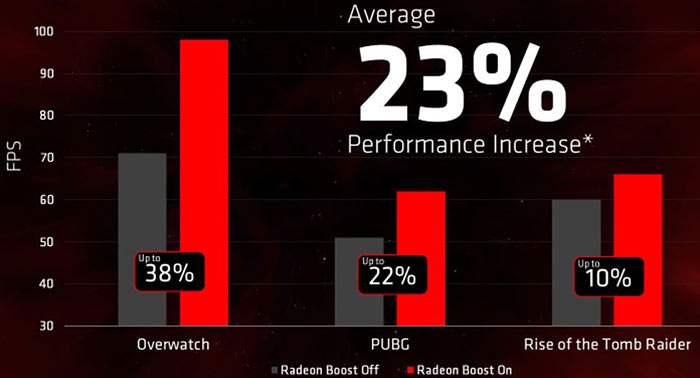 AMD trumpets that Radeon Boost can give you an average 23 per cent performance gain and you can see some examples in the chart above. The feature is supported by a product stack starting from RX400 and newer plus Ryzen 2000 and newer GPUs, plus Windows 7 or 10. However, at this time only a handful of games as follows; Overwatch, PlayerUnknown's Battlegrounds, Borderlands 3, Shadow of the Tomb Raider, Rise of the Tomb Raider, Destiny 2, GTA 5 and CoD WW2.
Integer Scaling is AMD's version of a feature recently added by both Intel and Nvidia - to make playing pixel art games old and new, more appealing. It works by applying a simple upscaling algorithm - without softening edges etc - for ultra-crisp scaling on high-PPI displays without a performance penalty.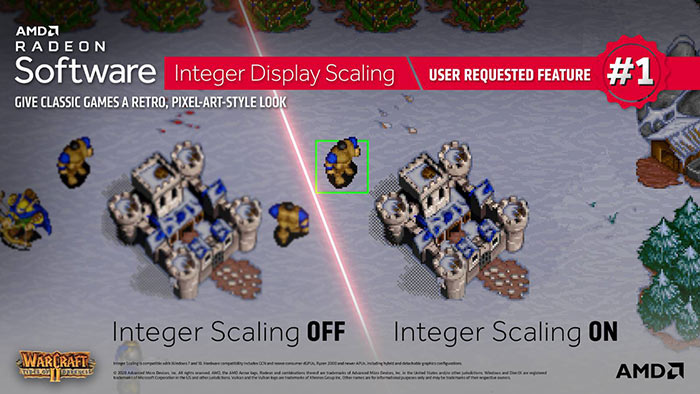 As mentioned in the intro some older features have been expanded or had their scope expanded. Radeon Image Sharpening has expanded support across more hardware and APIs. It adds support for DirectX 11 games in addition to DX 9, DX 12, and Vulkan titles, and the feature now allows an adjustment for users to select the degree of sharpness. Meanwhile Radeon Anti-Lag adds support for DX 9 titles on pre-Radeon RX 5000 series graphics cards.
AMD Link, a utility that allows for remote streaming of your PC games, has improved bit-rate support at up to 50Mbps and x265 codec support for better image quality with reduced bandwidth. This tool's interface has been upgraded alongside the main UI and AMD has placed all streaming functionality in the same area of the UI.
As well as the above new and improved features AMD says that users will see an average 12 per cent performance uplift in games compared to the 2019 Edition at launch. A number of fixed issues and issues remaining are catalogued in the driver release notes. You can find direct links to the Win 7 and Win 10 64 bit driver packages half way down the release notes page I linked.
Nvidia users: Nvidia has just released the MechWarrior 5: Mercenaries, and Detroit: Become Human game ready 441.66 WHQL driver.