NVIDIA might have rolled-out 13 new mobile GPUs, but its closest competitor in the graphics sector isn't resting on its laurels. At last week's COMPUTEX, AMD announced its ATI XGP (External Graphics Platform) technology, an external PCI-E 2.0 platform designed to deliver enthusiast-class graphics performance to notebook users.
AMD's reference design, pictured below, takes the form of a slimline box featuring an ATI Mobility Radeon HD 3800 GPU. It can be connected to your laptop via a 4.0Gbps PCIe 2.0 connector and will allow users to power up to four displays.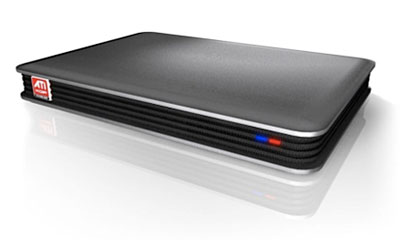 The XGP supports CrossFireX and will work in tandem with a notebook's existing internal GPU. It offers hardware acceleration for smooth playback of 1080p material, via HDMI or DVI outputs, and there's even a handful of extra USB 2.0 ports.
It all sounds very straight-forward but pretty useful, too. There is, however, a catch. AMD states that the XGP uses a "specially designed self-latching, easy-connecting PCIe 2.0 cable from Japan Aviation Electronics Industry".
Yep, that means there's a whole new connector and your laptop will need an XGP slot to take advantage of the technology. We're assuming there'll be plenty of Puma notebooks with the required connectivity, but it might not extend much further beyond that.
Matt Skynner, vice president of AMD's Marketing, Graphics Products Group, said:
"With ATI XGP Technology, notebooks can switch between everyday computing and hard-core gaming with a simple plug-in that's also portable enough to bring powerful 3D performance on-the-go. This technology allows users to choose notebooks with slim, lightweight and elegant designs, yet enjoy the full performance of a traditional desktop gaming rig wherever it's convenient."
For further details, visit the official product page: ati.amd.com