We all know that Intel is preparing to annihilate NVIDIA with its forthcoming Larrabee architecture, and if on the odd-chance the semiconductor giant manages to get the hardware right first time around, it'll need the software to utilise that multi-core goodness, right?
That then, would be the purpose of Intel's newly-launched Visual Computing Developer Community, part of its developer-orientated software network.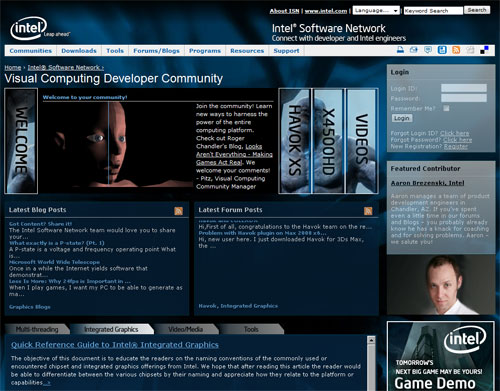 Intel states that the community website will "enable developers to create innovative graphics and video applications."
The site fetaures a video interview in which Intel's Roger Chandler, director of marketing, visual computing software division, states "we're really focused on the gaming industry...the big focus we have right now is on the game space." There's also a brief mention of Larrabee, making clear Intel's GPU ambitions.
Official website: softwarecommunity.intel.com