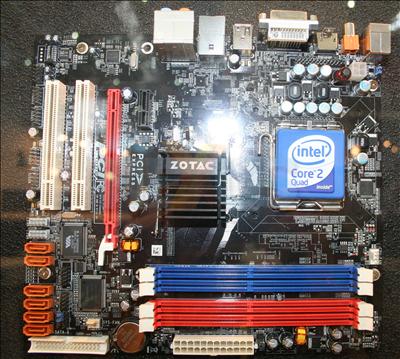 Motherboards featuring integrated graphics got a whole lot more interesting when AMD launched the 780G chipset in March of this year.

Sporting DX10 graphics and hither-to unseen display and multimedia-related features, 780G was, and still is, the best-performing IGP solution available.

NVIDIA's been playing catch-up for once, and its partners have slowly, but surely, starting trickling out AMD CPU-based designs with comparable graphics, under GeForce 8200 and 8300 nomenclature.

Now, GeForce 8300 also supports DX10 graphics, high-definition video-decode help, and Hybrid SLI, where the onboard GPU is married with a low-end discrete card for better performance.

But with AMD producing the 780G chipset for its own AM2(+) processors and Intel's G45-series not quite ready yet, NVIDIA is hoping to benefit by releasing an up-to-date IGP for Intel's better-performing CPUs.

Enter the MCP7A, or GeForce 9300, as shown on the ZOTAC board, above. It packs in much of what makes GeForce 8300 tick, naturally, but should perform a little better.

Although highlighted at the show, we expect to see GeForce 9300 no earlier than July this year, giving AMD a chance to fully leverage the worth of the currently-available 780G.