Asus GeForce GTX 1650 LP cards
Asus is a little late to the GeForce GTX 1650 low-profile game and perhaps with this in mind it has quietly added two such cards to its Nvidia Turing GPU based lineup. The new Asus GeForce GTX1650-4G-LP-BRK and GTX1650-O4G-LP-BRK are standard and factory overclocked examples, respectively, but otherwise are identical. Making that difference clear straight away, the regular model offers a boost clock of 1665/1695MHz depending on mode (Gaming/OC), while the factory overclocked GTX1650-O4G-LP-BRK hits 1710/1740MHz (about 3 per cent faster clocks).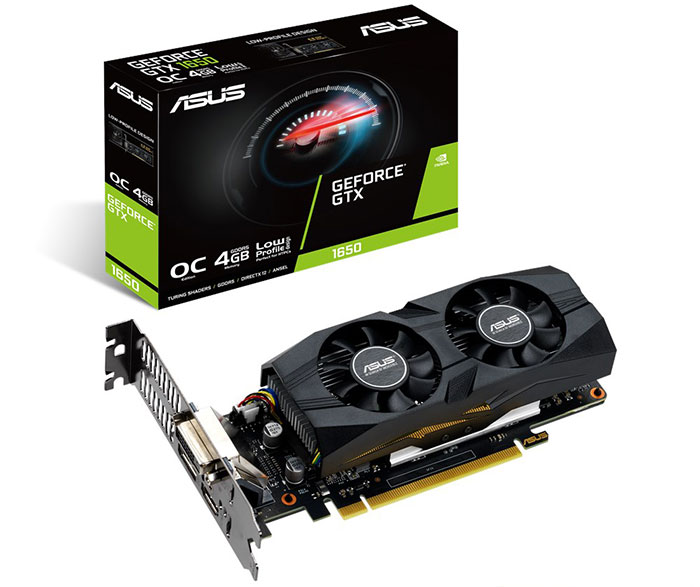 Standard features of these 6.9cm tall dual-slot graphics cards from Asus are, the Nvidia TU117 GPU with 896 CUDA cores, 4GB of GDDR5 8Gbps memory on a 128-bit interface, and support for up to 3x monitors via the DVI x1, HDMI 2.0b x1, and DP 1.4 x1 ports. No PCIe power cables are needed. The product design features twin IP5X dust-resistant pans and a protective backplate. You can find the full specs listed on the respective product pages linked top.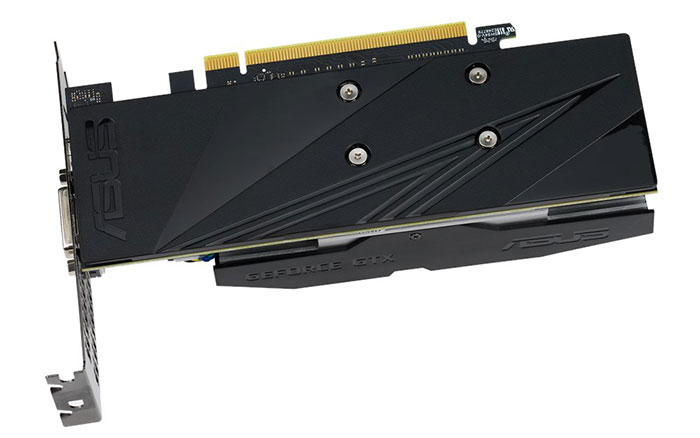 Since a major selling point of these LP cards is their size it is worth mentioning that they measure 18.2 x 6.9 x 4.1cm. These cards are expected to retail at a premium to the recommended pricing of US$149.
Elsa GeForce GTX 1650 SP
If you own or are making a PC which is physically challenged in another way, you might be more interested in single-slot graphics solutions. The Elsa GeForce GTX 1650 SP is a single slot graphics card based again, of course, on the Nvidia TU117 GPU.
Its key spec is the 896 CUDA cores running at a base / boost of 1485 / 1665MHz. Other standard features are the 4GB of GDDR5 8Gbps memory on a 128-bit interface. In its slim bracket you will find the following ports; DP 1.4a x2, HDMI 2.0b x1 - and you can connect three monitors at once.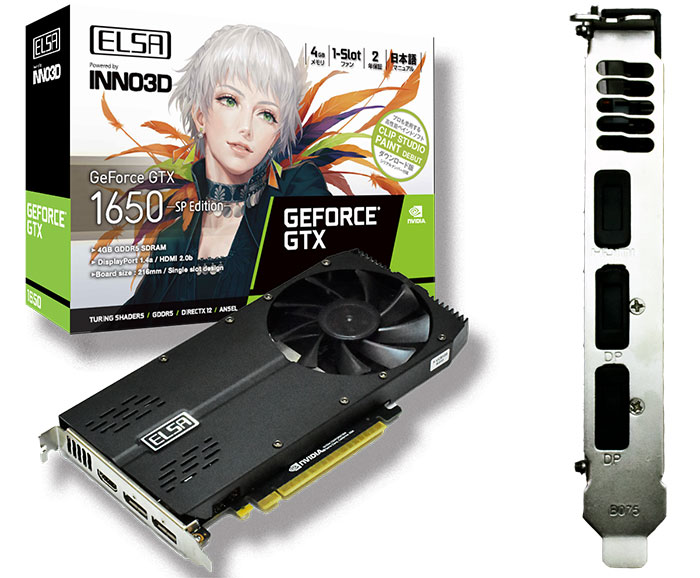 The precise physical measurements of this slim profile card are 21.3 × 11.1 × 1.9cm.
It might be hard to source an Elsa GeForce GTX 1650 SP here in the Europe but the firm made a branding / distribution deal with Inno3D last year, so it might come west that way.