Minecraft is claimed to be the world's bestselling video game, with over 176 million copies sold. The latest figures show there are over 91 million unique players across all (20) platforms. On PCs, thanks to collaboration between Nvidia and Microsoft (Mojang) users will soon be able to apply a free update that brings new depth and 'realism' to the blocky adventure sandbox game.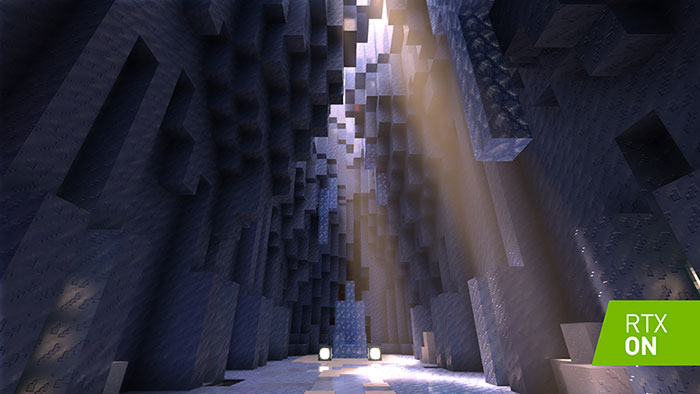 At Gamescom, Nvidia shared a Minecraft RTX trailer that shows off and discusses the new lighting in the game. As with previous RTX On titles, the additional rendering quality delivers lifelike lighting, reflections, shadows, and more. However, it is not such a subtle change - you won't have to pixel peep to fathom out if RTX is On or Off in Minecraft - it provides quite a marked difference in the video and screens shared.
The game environment retains its building-blocks aesthetic but RTX On has a big impact on lighting of the scenes and uses real-time global illumination tech. Clouds, fog and other atmospheric effects naturally change the look and feel of the world. Perhaps the biggest change in the graphics come from the enhanced appearance of the blocks you mine.

Click to zoom comparison
Emissive blocks like Glowstone and Lava can illuminate environments. Water, glass and other reflective surfaces show accurate real-time reflections, mirroring their surroundings. Gold isn't just a yellow block anymore, it has specular highlights and reflections - and Diamonds sparkle.
In an email to HEXUS it was explained that Nvidia and Mojang used a form of ray tracing known as path tracing for the Windows 10 version of the game to achieve the following effects:
Direct lighting from the sun, sky and various light sources, including emissive surfaces such as glowstone and lava
Realistic hard and soft shadows depending on the size, shape and distance of the light source
Per-pixel emissive lighting
Indirect diffuse illumination (diffuse global illumination)
Indirect specular illumination (reflections)
Transparent materials with reflection, refraction and scattering (stained glass, water, ice)
Atmospheric scattering and density (volumetric fog, light shafts, realistic sky)
Minecraft is famously moddable and the raytraced effects and capabilities of Minecraft RTX will be part of that flexibility. At the time of writing we don't have information about when the free Minecraft RTX update for PCs will become available.