MSI Gaming recently held an insider live stream event dubbed 'The Great GPU Battle of 2019'. This vlog is now available as a recording on the MSI Gaming channel (and embedded below). Presenters Pieter and Michiel take viewers through various MSI branded Nvidia GeForce and AMD Radeon graphics cards and performance. Later on the talk moves along to what GPUs are coming up, particularly with regard to AMD Radeon cards from MSI (about 1hr 51m into the video).
As well as Air Boost models of the Radeon RX 5700 Series cards that are similar to the reference blower style cooler, MSI is preparing Gaming X, Evoke OC, and Mech OC versions of the RX 5700 and XT. Availability will be roughly sometime in August, but some of these cards won't arrive on shelves until September, indicated the MSI presenters. Additionally, we are reminded that these will all be bundled with a three-month Xbox Game Pass for PC.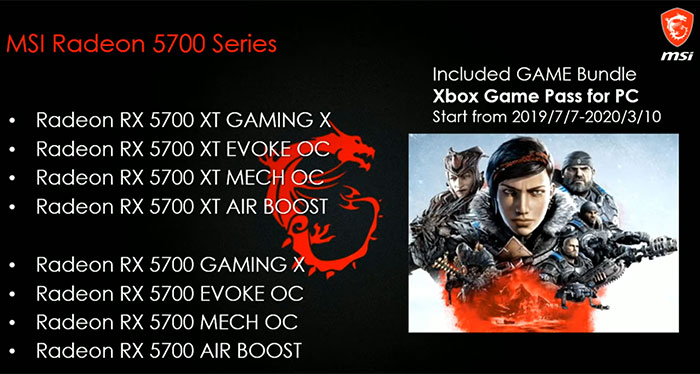 Just ahead of the vlog stream, the presenters were given an image of an RX 5700 XT Mech OC card that they were allowed to share. This is a currently in progress design, it is hinted, so actual shipping product might vary in looks/design a little.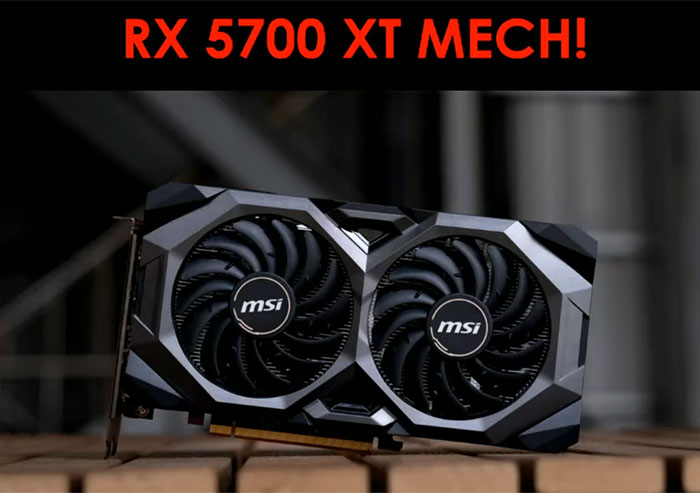 The above design is reminiscent of the MSI Ventus design which readers might be familiar with. For reference, HEXUS reviewed the MSI GeForce GTX 1660 Ti Ventus XS OC back in March this year. We found the reviewed GeForce GPU packing Ventus to be a little on the noisy side, so hopefully the Mech OC comes with a few refinements.
Moving up the stack is the Evoke OC but the MSI presenters seemed reluctant to talk about this design. Atop of the range will be the MSI Gaming X versions of the Radeon RX 5700 Series cards. This will probably be another dual-fan design, with TORX 3.0 fans and FROZR 7 thermal design, as triple fan versions are usually dubbed 'Gaming X Trio' cards.