Our AMD Radeon RX 5700 XT and RX 5700 review was published back on 7th July, but like everyone else HEXUS is eagerly awaiting third party cards with a whole range of beefy and esoteric cooling solutions. In the meantime Igor Wallossek of Igor'sLAB Germany and TomsHardware.de has been pushing the limits of an AMD Radeon RX 5700 XT with an EK-Vector Radeon RX 5700 XT water block plus some soft-mod tweaks.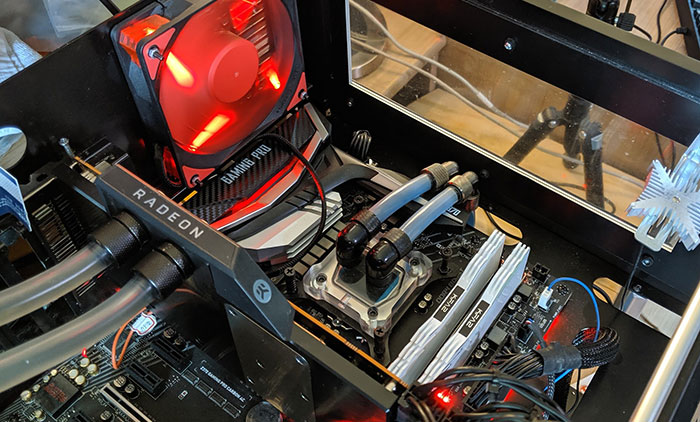 As VideoCardz reports, the concept isn't very complicated. Igor straps on the recently released EK water block onto his Navi GPU and uses custom SoftPowerPlay Tables (SPPTs) via modifications to the Windows Registry. These SPPTs allow for graphics card power limit tweaking, resulting in higher maximum achievable clocks.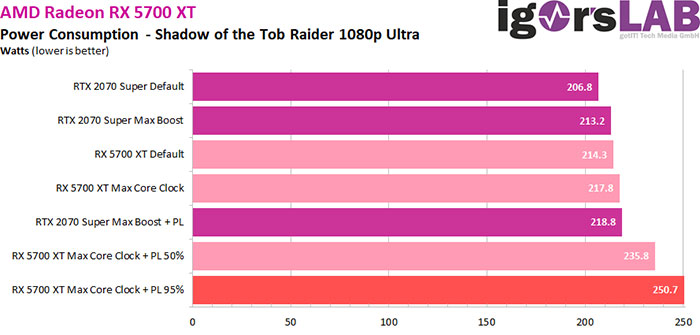 With the SPPT mod increased the power limit to +90 per cent by Igor, power consumption isn't shockingly higher than reference, though it can spike to 320W highs under stress, according to Igor's observations. The result was an overclock of 2.20GHz - the reference boost clock is 1.905GHz.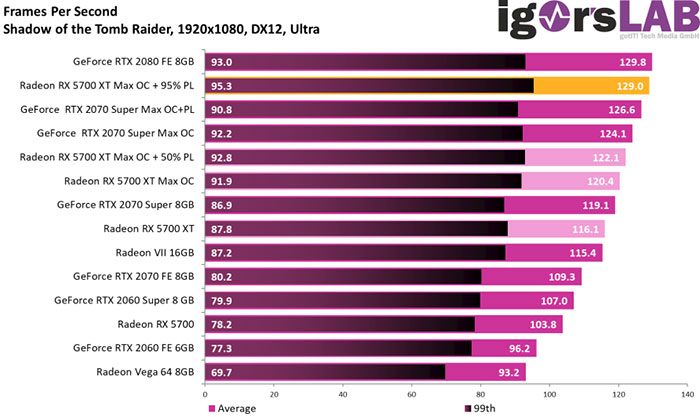 Igor produced a very interesting table by benchmarking Shadow of the Tomb Raider with AMD's Radeon RX 5700 XT in various OC and power configurations, compared to similar runners and riders.
Even before any SPPT tweaks, we see the EKWB cooler enabled overclock of the RX 5700 XT means it can leapfrog the Nvidia GeForce RTX 2070 Super in the SOTTR performance tables. Maxed out in power and OC terms, it even comes within a whisker of the GeForce RTX 2080 FE for average frame rates and beats it in one per cent lows.
You can read the full TomsHardware.de article in the link in the intro and watch the video presentation here. For the former you might need your translator, and the latter can be furnished with English subtitles by twiddling with YouTube's subtitles/closed captions feature (lower right). If you are interested in following in Igor's footsteps please proceed very carefully.