HEXUS was at the unveiling of the first 7nm Navi GPU-based graphics cards from AMD at Computex 2019. If you follow that link you can find out lots about how Navi leverages the GCN plus RDNA architectures for its performance gains, and on the following page you will see the first two graphics cards based on Navi that are destined to launch on 7/7, the Radeon RX 5700 and RX 5700 XT. These are AMD's reference designs - and it also teased a special Radeon RX 5700 XT 50th Anniversary Edition with gold accents, higher frequencies and a $50 price hike (see below).
Gamers and enthusiasts are understandably keen to see the Radeon RX 5700 and 5700 XT launch in early July - and sites like HEXUS are itching to share third party gaming and productivity tests using these brand new GPUs. However, if those interested are expecting a bevy of third party custom cooler RDNA-infused graphics cards to launch on 7/7, alongside AMD's reference designs, they might be disappointed…
Tech site Fudzilla said it was surprised there were no AMD AiB partner announcements to coincide with AMD's unveiling of the first Navi graphics cards. Probing a little deeper, it is quoting various sources and its headline says that custom Radeon RX 5700 designs won't arrive until mid August "if all goes well". Fudzilla's report sounds reasonable but, standing alone as it does, it might require a little pinch of salt. (BTW some Computex reports mentioned ASRock had Navi graphics card prototypes on show (see image below), but the AMD partner was cagy about exactly what it was showing.)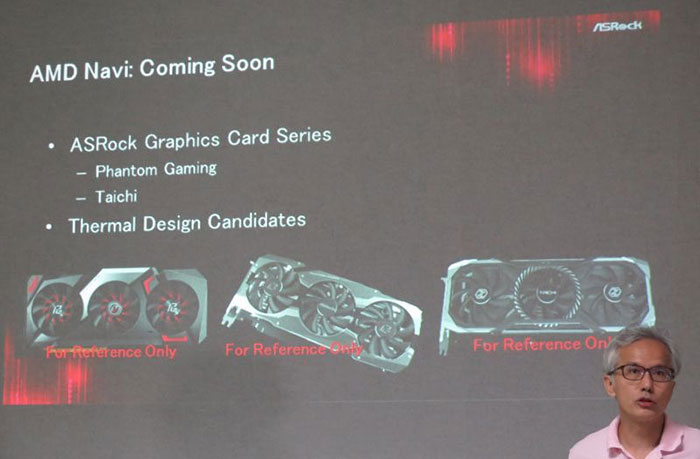 Tempering the above 'bad news' somewhat, Fudzilla offers its praise to the reference Radeon RX 5700 XT cooler design - which will be your only choice if you want to purchase this card for the first month or so.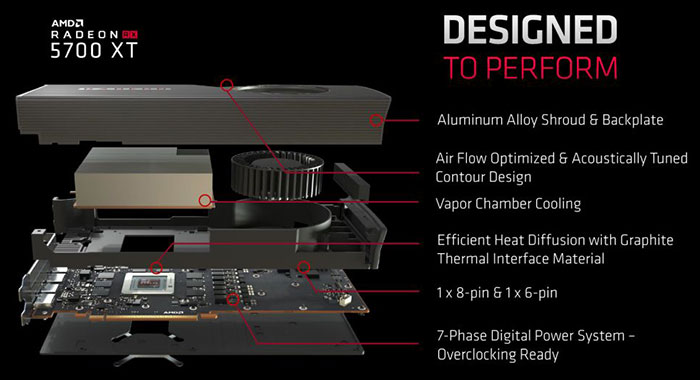 As noted in the slide above, the blower type cooler isn't something lazily repurposed from a previous generation. It has a thoughtfully put together component set including air flow optimised and acoustically tuned contours, uses vapour chamber cooling tech, it is OC ready with its 7-phase digital power, and AMD has pre-applied a specially selected graphite based TIM.