Back at the GDC 2019 in mid-March, Nvidia CEO Jensen Huang revealed that real-time raytracing technology was about to become available to a lot more Nvidia GPU owners in the coming weeks. Today the driver enabling real-time raytracing on the GTX 1060 6GB and better has been released. It is called the GeForce Game Ready Driver version 425.31 WHQL and is available immediately. Thanks to this new driver there are now "tens of millions of DXR GPUs" in consumer PCs.
With the new driver installed "millions more gamers with GeForce GTX GPUs to experience ray tracing for the first time ever," says Nvidia. However, one must remember that with their dedicated RT cores, the GeForce RTX 20 range provide up to 2-3x faster performance in raytraced games, facilitating more effects, higher ray counts, and higher resolutions. In other words, Nvidia VP of Technical Marketing, Tony Tamasi, says "even folks that have Pascal, if they just want to check it out, they can at least see what raytracing looks like and get a little taste for themselves". See the explainer video featuring Tamasi embedded below.
Above you will see Mr Tamasi explain that some raytraced games effects will work acceptably on the more powerful Pascal cards - but in the newest and more demanding titles such as Metro Exodus GTX 10 and GTX 16 graphics card owners should probably only turn on raytracing for a quick look at the eye candy they are missing.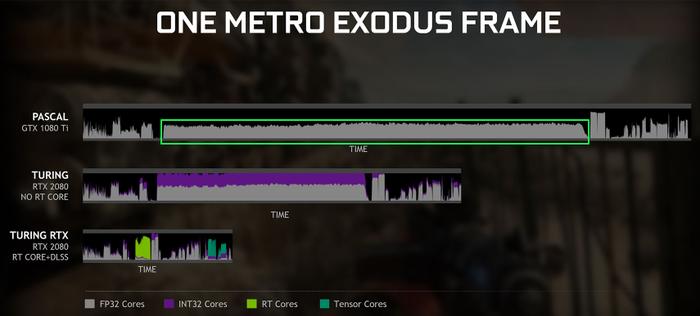 Click image to expand
A processing example of a single Metro Exodus frame is provided in the image above. Nvidia's Tech Marketing VP has highlighted the GTX 1080 Ti SM processing of raytracing imagery with a green box. You can see it takes up a lot of frame rending time - about 80 per cent of the time used. Moving down to the next row you can see that an RTX 2080 which can execute floating point and integer instructions (purple) simultaneously. The best case is seen in the bottom row where the RTX 2080 RT cores are put to task, massively accelerating this rendering task.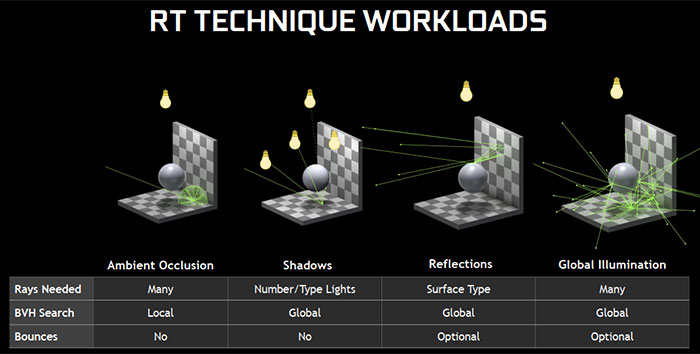 It is also clearly explained that various types of raytracing loads come with varying performance penalties. Above, left to right you can see that RT Ambient Occlusion isn't going to cause much strain on a GPU, while Global Illumination relies on considerably more intense calculations.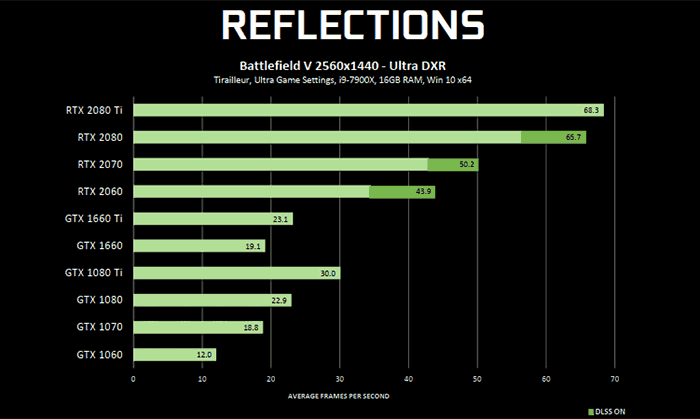 Nvidia has shared some ray tracing gaming benchmark comparisons in games such as Shadow of the Tomb Raider, Metro Exodus, and in various tech demos on its blog. In these games you will not be aiming to run 'Ultra DXR' settings if you are sporting a GTX 10 or GTX 16 card so that will of course help you to enjoy some DXR at acceptable performance levels dependent upon your PC config.
On the topic of demos you can now download (scroll down half way for links) and run the following demos on your RTX enabled graphics card: Justice Online, Atomic Heart, and Reflections.
For reference, the full list of DXR-capable GeForce GPUs is as follows:
GeForce GTX 1660 Ti
GeForce GTX 1660
Nvidia Titan Xp (2017)
Nvidia Titan X (2016)
GeForce GTX 1080 Ti
GeForce GTX 1080
GeForce GTX 1070 Ti
GeForce GTX 1070
GeForce GTX 1060 6GB
And laptops with equivalent Pascal and Turing-architecture GPUs
Lastly, remember that stunning real-time raytracing is possible at high resolutions and acceptable framerates on AMD cards too, such as the Radeon Vega 56, with the right graphics engine and support.