AMD today launched a new high-end graphics cards for data centres to coincide with its presence at VMworld, Las Vegas. It is claimed that the AMD Radeon Pro V340 graphics card delivers extreme performance and high user density for virtualised environments.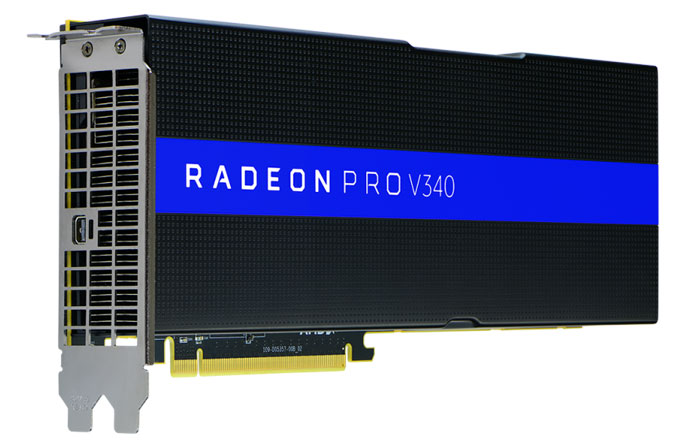 Inside this dual-GPU card is powered by 14nm FinFET GPUs based upon the Vega architecture. Furthermore, it packs in 32GB of fast HBM2, and is the first VDI hardware solution to offer so much memory, says AMD.
Model: Radeon Pro V340
Platform: Server
GPU Architecture: Vega
Lithography: 14nm FinFET
Stream Processors: 7168
Compute Units: 112
Max Memory Size: 32GB HBM2
Memory Bandwidth: 512 GB/s
Memory ECC Support: Yes
Form Factor: PCIe Add-in Card, PCIe 3.0 x16
TDP: 300W
External Power Connectors: 2x8 pin PCIe Power Connectors
Cooling: Passive
Board Width: Double Slot Board Height: Full Height
DisplayPort: None, HDMI: None, DVI: None, VGA: None
As you can see above, the Radeon Pro V340 provides 7168 stream processors and has a TDP of 300W, though it is passively cooled (it will be inside an adequately cooled server rack). For this hardware to appeal to those building servers for data centre visualisation workloads (CAD, design, rendering and so on) AMD MxGPU Technology, based on the industry-standard SR-IOV technology, comes into play. AMD says its hardware and software combo "delivers fast, stable and predictable performance with the industry's highest user density, without requiring recurring end-user license fees".
In its press release AMD shared testimonials from VMWare and Citrix, supporting its claims that the AMD Radeon Pro V340 graphics card is an excellent new choice for secure virtualised resources, for the most graphically demanding applications.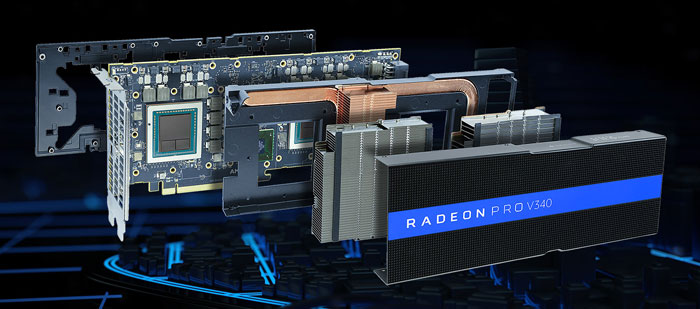 AMD bullet points the following highlights of its new enterprise, DaaS and cloud gaming solution:
Superior User Density: Supports up to 32x 1GB virtual machines, up to 33 per cent more than the competitive solution.
Integrated Encode Engine: The ability to compress independent video streams in both H.264 and H.265 formats. Provides design and manufacturing users with the video quality they expect, while empowering IT managers to eliminate CPU bottlenecks.
Ultra-Fast Frame Buffer: HBM2 memory with Error Correcting Code (ECC) and better power efficiency than competing solutions allow fast paging apps to run incredibly fast.
Built-in Security Processor: Provides secure boot and encrypted storage capabilities.
Availability of the AMD Radeon Pro V340 is expected to begin in Q4 2018.