It's said to be TOXIC but it is safe to handle
Sapphire has today added a new flavour to its Radeon HD 3870 offerings in the form of the HD 3870 TOXIC - now available globally.
The TOXIC brings single-slot cooling to the HD 3870 by utilising the Sapphire-exclusive Vapor-x cooler - which incidentally is already available on Sapphire's HD 3870 Atomic.
With its more efficient and supposedly quieter cooling, the TOXIC card comes pre-overclocked and Sapphire claims it offers enthusiasts the opportunity to push it that little bit further - it just so happens to be slightly less overclocked than the HD 3870 Atomic mind you.
The single slot design - like the HD 3870 Atomic - should also help you easily cram a couple of these into a CrossFire configuration, we'll call that process "getting inTOXICated" - get it? Never mind.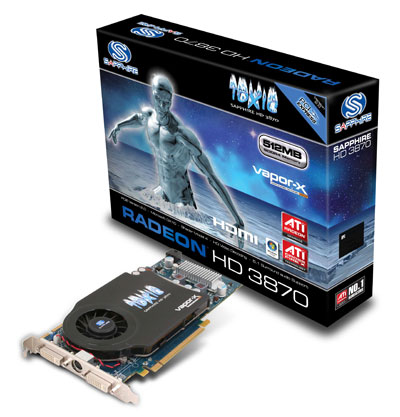 The HD 3870 TOXIC, pictured above, offers 512MB of GDDR4 memory clocked at 1152MHz and its GPU is clocked at 800MHz, just a touch lower than Sapphire's HD 3870 Atomic which carries a GPU clock of 825MHz. CrossFire fans should be aware that right now only two of these cards can be daisy-chained together. A future driver release will let you hook-up up to four of these.
No official word on pricing just yet, but expect it to start showing up any moment now. Don't ask why Sapphire has released a slightly slower alternative to its HD 3870 Atomic, we just presume the HD 3870 TOXIC will be that little bit cheaper.
Official press release: SAPPHIRE HD 3870 goes TOXIC!
Related reading: Sapphire Radeon HD 3870 ATOMIC: the best RV670 yet