S3's OmniChrome can't be sold in the UK?
Whispers abound at CeBit from people attached to the board partners in the UK that sell S3's OmniChrome, an All-In-Wonder-ish (which is amusingly how S3 themselves refer to it internally, sometimes) product that pairs S3's S4 processor with 256MB of memory on an oversized PCB, along with a slightly disappointing feature set, that the OmniChrome can't actually be sold in the UK, since it fails a crucial certification process required for sale of electronic goods in good ol' Blighty.

The same board partners say that they ship a bunch of the product in places like Hong Kong, a market that doesn't require the certification that it fails in the UK, so they're not overly concerned, but it's a slightly startling revelation for those in this country looking to grab themselves one.

It's not the most appealing product in the world, and frankly has some poor design decisions that S3 have vowed to correct in their future All-In-Wonder-like products. VIA's graphics company, S3, has had a rough time of it with recent products, so here's hoping they can put the issue, which I confirmed with a direct supplier of the boards in the UK, behind them in the future, creating appealing products that customers can get behind and feel proud purchasing.

S3's graphics guru, Nadeem Mohammed, is the kind of infectious tech dude that you will to succeed, simply because he's such a smart guy in a struggling outfit that he loves dearly. It wouldn't surprise me if he had a Virge tattoo somewhere.

Here's a shot of the OmniChrome on AGP, slightly cropped out of shot, alongside a brand new S18-based GammaChrome on PCI Express (the original focus of the photograph).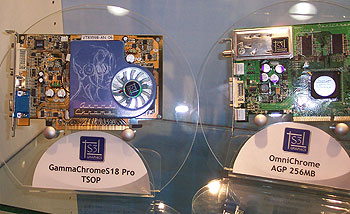 Click for a bigger version