AMD has announced early availability of its mobile 7th generation A-Series processors. The mobile processors are now shipping in volume to OEM customers. Yesterday saw HP announce a new ENVY x360 laptop featuring a Bristol Ridge APU, for example. However there's still a wait until availability, the mobile processors will debut in "a wide range of OEM designs at Computex 2016," where we also expect to see the desktop chips launched.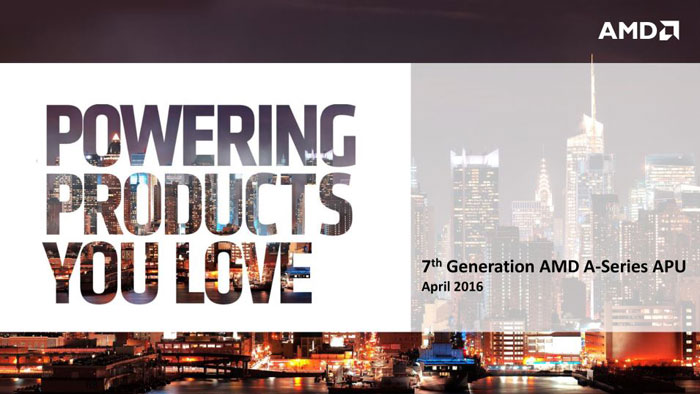 AMD's Bristol Ridge uses the same Excavator cores as can be found in its predecessor, code named Carizzo, but with some micro architecture and manufacturing tweaks. Perhaps one of the biggest changes is in platform memory support: Bristol Ridge supports DDR4 memory. The refinements and improvements in Bristol Ridge seem to add up, as AMD claims a "massive x86 improvement" over previous gen APUs, as you can see in the slide below.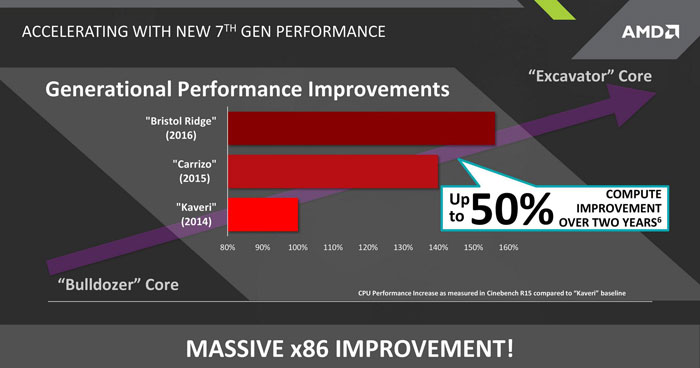 As a pre-announcement of Bristol Ridge APUs, the AMD press release doesn't offer many substantial details and it admittedly was timed "to support an exciting new notebook design by HP," the aforementioned ENVY x360. With such laptops the built-in graphics capabilities are vital, you can't upgrade them at a later date. Thus improvements in the built-in Radeon R7 and R5 graphics components of the APU can help you enjoy your device for longer.
With the upcoming Bristol Ridge APUs, AMD promises users will "enjoy the latest multimedia experiences in up to Ultra HD 4K video resolution, and AMD FreeSync Technology support for fluid, artifact-free online gaming performance in capable notebook and All-in-One configurations". Graphics performance uplift with the new Bristol Ridge APUs is said to be as much as 18 per cent better than previous generation APUs and 50 per cent better than the "comparable Intel product" (an Intel Core i7-6500U).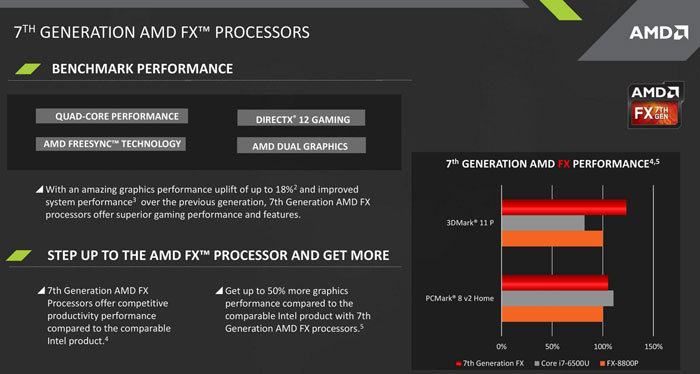 Overall AMD's 7th Generation A-Series Processors will bring "sharper graphics, faster performance, and longer battery life," said Jim Anderson, senior vice president and general manager, Computing and Graphics Business Group, AMD. More details about Bristol Ridge will likely come nearer to, or at, Computex 2016.