The Internet of Things (IoT) represents an idea where billions upon billions of sensor-embedded devices carry basic networking ability in order to communicate with the outside world. IoT is about making devices smarter. Imagine a smart city that has intelligent lighting. Consider the possibility of a plethora of sensors in your home that switch lights off, control the heating, regulate the air quality level and so on and so forth.
Industry firm Gartner believes there will be approximately 20 billion IoT devices in the wild by 2020, driven by both consumer and business demand. With such a huge market potential, designing devices for IoT is fast becoming big business, and this is why start-up firms are invented new, easier ways for developers and hobbyists to program devices.
While embedding simple sensors into devices is straightforward, programming them for a specific task has hither-to put off the budding hobbyists - one needs to appreciate basic programming protocol in order to make devices function correctly. There are numerous simple micro-controller platforms available today, including Arduino, Nanode, Teensy, Intel Curie and, of course, Raspberry Pi, but all require some knowledge of code.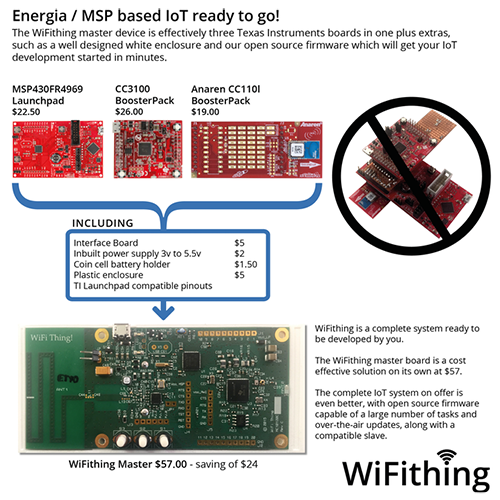 This is where start-up company WiFithing comes in. It has a complete hardware and software solution for IoT which it believes is the easiest to use. The hardware, called WiFithing Master amalgamates three Texas Instruments boards in one - MSP430FR49 Launchpad, CC3100 BoosterPack, and Anaren CC110i BoosterPack - and all projects require the Master board while some require an additional slave board. With the usual pin-outs and similar processing capability as competitors, the hardware is a proven solution.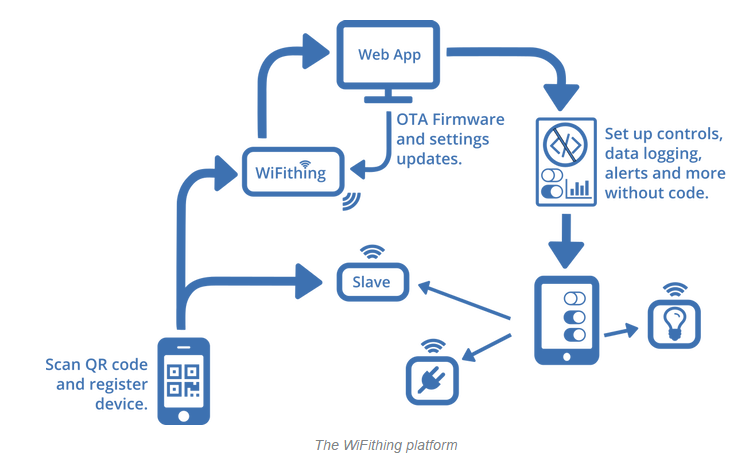 Where WiFithing is different is with the operating system. Rather than have complex code that daunts the beginner, WiFithing has created 60 built-in functions that each have up to four parameters. The beauty is that the functions are web-based and simplified, meaning that programming is done over-the-air and in a drag-and-drop manner. If you lose your connection, the devices can still be controlled by a smartphone.
WiFithing believes that anyone with a bit of experience can build a device that is able to operate a weather station, function as a breathalyser or water your plants with a timer - the very essence of IoT, if you will.
If this interests you, the project is currently in a Kickstarter phase with the aim of raising $15,000. Interested, you know where to go.