Samsung launched its Galaxy Alpha smartphone on Wednesday but at that time the exact SoC behind the design wasn't revealed. We were told that the Samsung Galaxy Alpha was powered by a Octa Core (Quad 1.8GHz + Quad 1.3GHz) chip or Quad Core 2.5GHz chip of undisclosed origin. Now it has been revealed that the Galaxy Alpha, the metal chassis equipped "evolution of Galaxy Design," is equipped with Samsung's first 20nm Octa Core mobile processor, the Exynos 5430.
Uninformative smartphone promotion video
Samsung Galaxy Alpha
The newest Galaxy smartphone employs Samsung's long rumoured metal frame design. However the back is still made from a kind of dimpled tactile plastic. The key specs of the Samsung Galaxy Alpha include; a 4.7-inch HD Super AMOLED (1280 x 720) display, an Octa Core (Quad 1.8GHz + Quad 1.3GHz) processor, 2GB RAM, 32GB storage (but no microSD option), 12MP HDR (rear) + 2.1MP (front) cameras, LTE Cat.6, Wi-Fi, Bluetooth 4.0, NFC, USB 2.0 connectivity, a 1,860mAh battery, dimensions of 132.4 x 65.5 x 6.7 mm, and 115g in weight. It runs on the Android 4.4.4 KitKat OS.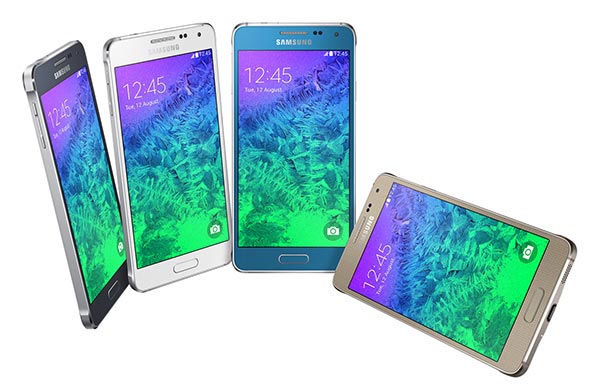 The Samsung Galaxy Alpha is initially available in four shades
Samsung's 20nm Exynos 5 Octa, the Exynos 5430
As mentioned in the intro the exact specs of the processor in the Samsung Galaxy Alpha weren't revealed at launch. However we now know it is the Exynos 5430. This is Samsung's first mobile application processor built on its in-house 20nm process. Samsung says that employing this processor in its designs "drastically lowers the power consumption," whilst still offering stronger performance than its predecessor. The Exynos 5430 is built using 20 nm low-power High-K Metal Gate (HKMG) process technology. We are told that this process shrink reduces the chip's power consumption by a quarter.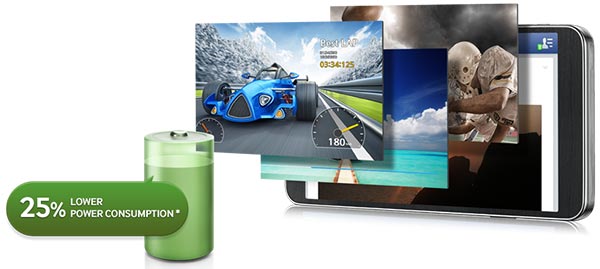 Longer battery life or less battery cells for a slimmer smartphone?
The processor has four powerful ARM Cortex-A15 cores running at 1.8GHz and four efficient Cortex-A7 cores at 1.3GHz. This big.LITTLE combination gives the user the best of both worlds.
Samsung also claims that the Exynos 5430 supports resolutions as high as WQHD (2560 x 1440) and WQXGA (2560 x 1600). Built-in mobile image compression maximises usage hours of the mobile display by slicing the amount of image data needing to be transferred by half. Furthermore the Exynos 5430 processor is equipped with an enhanced dual Image Signal Processor (ISP) and 17GB/s of memory bandwidth for improved multimedia experiences.
Looking back at the Samsung Galaxy Alpha design, perhaps the comparatively low (1,860mAh) battery capacity and remarkable device thinness are a result of the energy efficiency of the new Exynos 5430.