Samsung has announced a pair of new 32-bit processors at the MWC. The new members of its Exynos range will be powered by between 6 and 8-cores and are targeted at smartphones and tablets. The six-core Exynos 5 Hexa 5260 chip is aimed at the mid-range market. The Exynos 5 Octa 5422 is destined for higher end devices. However Samsung is yet to announce off any 64-bit processors to take the fight to Apple's A7 and the 64-bit chips announced by Intel and Qualcomm a couple of days ago.
It was revealed that the two chips are already in use in some new Samsung handsets. The brand spanking new Galaxy S5 runs using an Exynos 5 Octa 5422 clocked at 2.1GHz and the Galaxy Note 3 Neo runs using a Exynos 5 Hexa 5260 with two 1.7GHz A15 cores and four 1.3GHz A7 cores. However, as experienced Samsung watchers will know, it often launches phones with different processors in different markets and this is also the case with the above. There is a Galaxy S5 spec including the Qualcomm Snapdragon 801 processor instead of the Exynos 5 Octa 5422.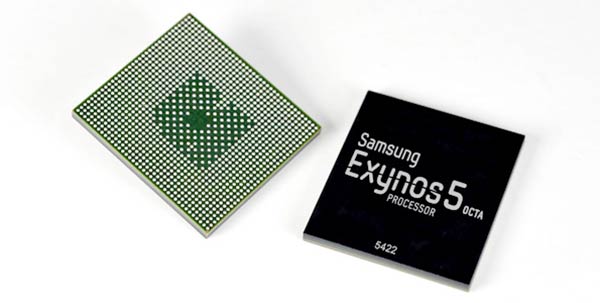 Exynos 5 Octa 5422
This new processor has a big-LITTLE configuration with four ARM Cortex- A15 cores (up to 2.1 GHz) for heavy loads and four ARM Cortex- A7 cores (up to 1.5 GHz) for lighter jobs. Samsung says that this processor with deliver up to 34 per cent better performance than previous Exynos Octa models including that in the Galaxy S4. The chip design has been enhanced to offer "any combination of up to eight cores is engineered to provide optimum performance for any given task," says Samsung.
The Exynos 5 Octa 5422 is also tailored to provide "an outstanding multimedia experience". It can support high resolution displays such as WQXGA (2560 x 1600) and using the Multi Format Codec (MFC) support 4K UHD media.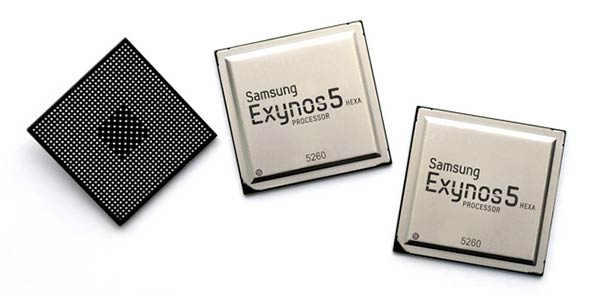 Exynos 5 Hexa (Exynos 5260)
This new Exynos 5 Hexa processor is powered by six CPU cores; two 1.7GHz ARM Cortex-A15 cores and four 1.3GHz ARM Cortex-A7 cores, again using a big.LITTLE design. Samsung says this chip can beat previous Exynos 5 Dual performance by up to 42 per cent.
Again this chip supports resolutions up to WQXGA (2560 x 1600). An integrated video codec enables 1080p playback of H.264, MPEG4 and VP8 videos at 60fps.
Imagination Technologies announces PowerVR GX6650 192-core mobile GPU
Imagination Technologies has announced a 192-core mobile GPU called the PowerVR GX6650. That's the same amount of graphics cores as in Nvidia's much vaunted Tegra K1. The design of the chip allows the flexibility of a low-power, high-performance FP16 mode which can provide up to twice the performance of FP32 within a constrained power budget. Also for power efficiency Imagination uses its own PowerGearing G6XT and PVR3C technologies.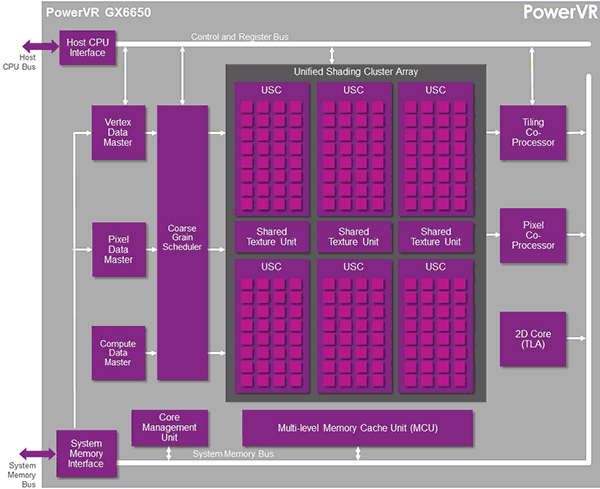 Imagination was keen to compare its new PowerVR GX6650 with competitors and said it "can process 12 pixels per clock, which is up to triple the number of our competitors," also it boasts "up to 50% higher texture rate compared to its direct competitors". The new chip is said to be "a beast" and Imagination says that it shows it is set to remain the mobile graphics leader for the long term.