Nvidia has unveiled the Tegra K1 which it describes as a "192-Core Super Chip". The Tegra K1 chips are said to be based upon the same 'DNA' as the GeForce GTX 780 Ti i.e. the Kepler GPU architecture. Nvidia says that chips will be able to provide faster than current gen (X360, PS3) gaming with the same graphics features as next gen consoles - upon mobile platforms. The chip will be made available in 32-bit and 64-bit pin-compatible versions with the 64-bit chip being codenamed 'Denver'.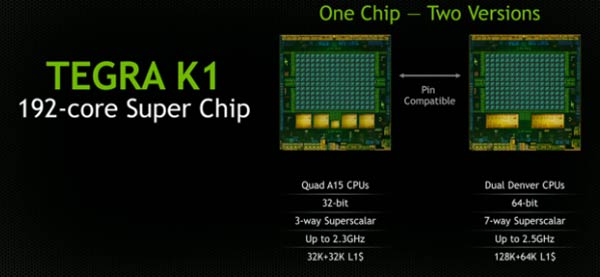 As mentioned above there are two versions of the Tegra K1. The first version is a 32-bit quad-core chip which uses a 4-Plus-1 ARM Cortex A15 CPU configuration. The second version uses "a custom, NVIDIA-designed 64-bit dual Super Core CPU," called 'Denver', it is a 64-bit chip which is based upon the ARM v8 architecture. Both the chips get their green team graphics grunt from a 192-core NVIDIA Kepler GPU. The 32-bit Tegra K1 is expected in devices as soon as H1 this year and the 64-bit 'Super Core' powered Tegra K1 is expected in devices from H2 2014.
Tegra K1 bridges the gap between next gen and mobile
"Over the past two decades, NVIDIA invented the GPU and has developed more graphics technologies than any other company," said Jen-Hsun Huang, co-founder and CEO, NVIDIA. "With Tegra K1, we're bringing that heritage to mobile. It bridges the gap for developers, who can now build next-gen games and apps that will run on any device."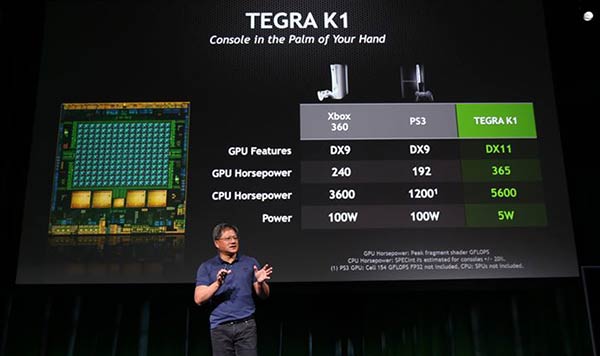 It's Unreal (Engine 4)
The Tegra K1 supports modern PC class tech such as DirectX 11, OpenGL 4.4 and tessellation. "With the introduction of this revolutionary processor, we can take applications that run on PC or console and run it on Tegra," said Tim Sweeney, founder of Epic Games and developer of Unreal Engine. Sweeney went on to predict that the performance and feature gap between mobile and console/PC gaming will almost disappear.
Tegra K1 in your car
Nvidia also has automobile ambitions for its newly announced mobile processor. The firm says that the Tegra K1 will enable new automotive applications "that had previously not been possible with such low power consumption". This range of tasks includes self-driving car tech including camera-based, advanced driver assistance systems (ADAS). This kind of system can watch out of pedestrians, monitor your car blind spots via various camera inputs, recognise and process street signs and even check that the driver is alert.
"To process the steady deluge of sensor and camera data required by a self-driving car, NVIDIA is bringing highly energy-efficient supercomputer technology inside the vehicle," said Taner Ozcelik, vice president and general manager of the automotive business at NVIDIA. "Tegra K1 solves this by providing 10 times the computing power of previous mobile processors without consuming additional energy."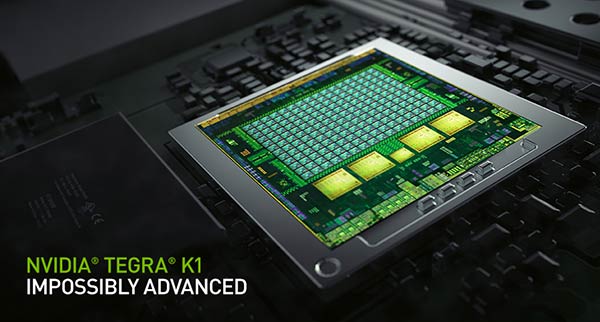 Nvidia also talked about how its in-car displays will look good in your car thanks to photorealistic skeuomorphism. "Digital instrument clusters and infotainment systems can be customized with a wide range of virtual materials, from copper, titanium and brushed aluminium, to stitched leather and carbon fibre," we are told. Libraries of materials and instrument cluster arrangements will help driver customise their car digital controls.
Discussing the new Nvidia Tegra K1 and its automotive possibilities Ricky Hudi, chief executive engineer at Audi said that it will help his team "deliver revolutionary supercomputing advances to the car, paving the way to piloted driving experiences."