Fresh from unveiling Bay Trail SoCs that are primed to power the next generation of tablets, Intel has provided a glimpse of the performance offered by these new Atom Z3000-series chips.
New core, new tricks
These Atoms, based on the Silvermont architecture, boost previous-generation Clover Trail performance by adopting a clean-sheet design based on an out-of-order execution design. Intel eschews the PowerVR graphics found in Clover Trail and replaces it with a cut-down version of the HD Graphics present in Ivy Bridge processors. The result? Significantly better all-round performance without an increase in power consumption.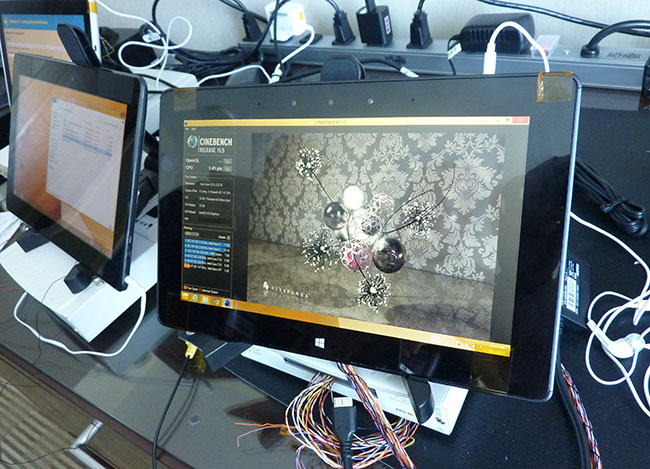 3x previous-gen performance?
Intel ran through a couple of applications during a heavily-controlled 'benchmarking' session at IDF. First up was Cinebench R11.5, the reviewers' favourite, and Intel had an Acer tablet featuring a Clover Trail Z2760 Atom chip (2C/4T) up against a reference tablet with a top-of-the-range Bay Trail Z3770 (4C, 4T). Both ran 32-bit software installs of Windows 8 - there's no support for connected standby for 64-bit just yet - though the Bay trail, for some reason, used the latest 8.1 preview. It was entirely annoying that Intel couldn't provided an apples-to-apples comparison.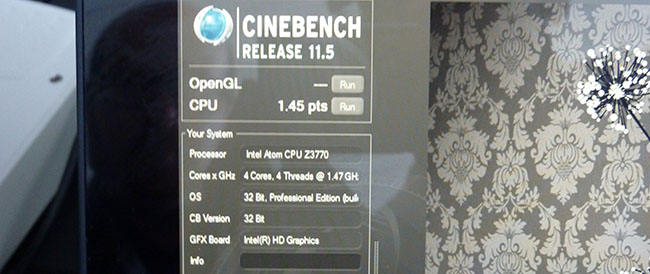 The Bay Trail tablet scored 1.45 marks when evaluated using the all-core test. The score doesn't mean a lot without comparisons, granted, so let's contextualise it. The Clover Trail tablet scores 0.55, AMD's rival Kabini-powered A4-5000 around 1.5, and a Core i5-2467M-bearing Samsung Series 9 notebook some 1.93 marks.
Tripling the score of the last-gen Clover Trail Atom tablet is no small feat but all-core numbers are practically useless without taking power consumption into account... and that's the impressive part. Intel had both tablets' SoCs connected to high-end power meters and both Clover Trail and Bay Trail silicon pulled up to 3W at full chat.
An everyday-use tablet
Does this make the best Bay Trail SoC good enough for everyday usage? It's way too early to say that, yet it's clear this new Atom is certainly better when under strenuous load. Intel says the chip has been designed to offer excellent single-thread performance, which wasn't specifically tested, and we're quietly optimistic on its chances of running everyday applications efficiently.
Intel also ran through the usual SunSpider test and showed the Bay Trail returning a result of 343ms, compared with 717ms for Clover Trail, where lower is better.
Graphics, too, are much improved, to the tune of between 2-3x, according to Intel's own estimates, and the company's folks were at pains to show that Bay Trail's HD Graphics could play most app-store games at a full-HD resolution allied to high-quality settings.
It's easy to get carried away with the apparent strength of Bay Trail SoCs for tablets. Tempering this notion, do understand and appreciate that the best Bay Trail SoC remains fundamentally slower than the least-powerful mobile Haswell chip.
We come away with the feeling that Intel will be at least competitive against the best tablet-optimised SoCs from Qualcomm, ARM, Nvidia, et al. Built for both Android and Windows, choosing your next tablet may have become that little bit more difficult.