Intel has unveiled its brand new Silvermont microarchitecture. The new Atom chips based upon 22nm Silvermont designs will yet again be pitted against ARM processors in the target market of mobile processors. Silvermont designs will power the Merrifield (smartphone) and Bay Trail (tablet) SoCs. However this time Chipzilla might have more of a chance against the ARM artillery supplied Qualcomm, Nvidia, Apple, and Samsung.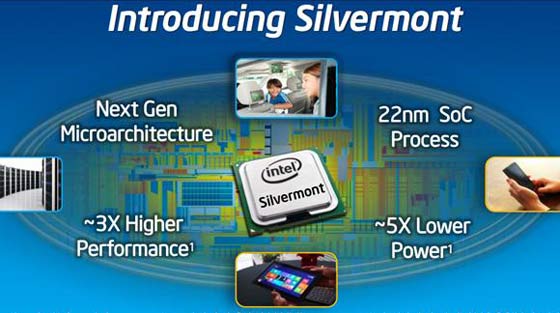 According to Intel, the Silvermont architecture can deliver a choice of "approximately 3x more peak performance or the same performance at approximately 5x lower power over the current-generation Intel® Atom™ processor core". That is indeed a significant improvement. As well as design tweaks the Silvermont SoCs benefit from a shrinking of production process scale from 32nm used in the current generation of Atom SoCs, down to the 22nm Fin FET process with 3D transistors.
Industry-leading performance-per-watt efficiency
Intel isn't just taking aim at ARM in mobiles and tablets, there are other sizable markets such as microservers, network infrastructure, storage and other market segments including entry laptops and in-vehicle infotainment where Intel fancies its new chips will be employed. The new chips offer "industry-leading performance-per-watt efficiency" according to Intel. What is more the chip is very flexible for system designers in its scalability as "the highly balanced design brings increased support for a wider dynamic range and seamlessly scales up and down in performance and power efficiency".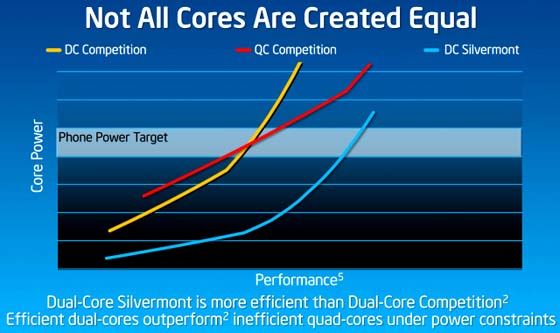 Dadi Perlmutter, Intel executive VP said of the new architecture "Silvermont is a leap forward and an entirely new technology foundation for the future that will address a broad range of products and market segments." He told us that Intel's pre-launch tests are "already garnering positive feedback from our customers. Going forward, we will accelerate future generations of this low-power microarchitecture on a yearly cadence."
Other highlights of the new Silvermont architecture as highlighted by Intel include:
A new out-of-order execution engine enables best-in-class, single-threaded performance.
A new multi-core and system fabric architecture scalable up to eight cores and enabling greater performance for higher bandwidth, lower latency and more efficient out-of-order support for a more balanced and responsive system.
New IA instructions and technologies bringing enhanced performance, virtualization and security management capabilities to support a wide range of products. These instructions build on Intel's existing support for 64-bit and the breadth of the IA software installed base.
Enhanced power management capabilities including a new intelligent burst technology, low- power C states and a wider dynamic range of operation taking advantage of Intel's 3-D transistors. Intel® Burst Technology 2.0 support for single- and multi-core offers great responsiveness scaled for power efficiency.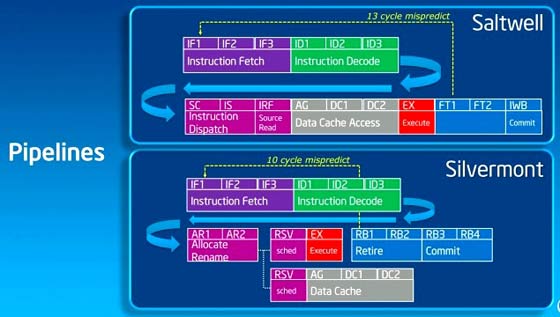 Timescales
The Intel Bay Trail SoCs aimed at tablet computers are expected to be included in "holiday 2013" tablet designs. These will offer double the compute performance of current Atom based tablets. Intel also expects to see Bay Trail SoCs incorporated in entry level laptops and desktops with "innovative form factors", probably compact designs.
The Merrifield is expected to be available in products, particularly aimed at smartphones, by the end of the year. Intel will also be making Silvermont variants aimed at microservers (Avoton) and network and communications equipment (Rangely).
Analyst views
Reading through Intel's promotional launch literature and looking though the slides it may seem that Intel will be able to finally crack the mobile market. However analysts by no means see Intel's future success in such certain terms. Doug Freedman of RBC Capital Markets was quoted on the CNBC Stocks blog as saying "We are encouraged by new instructions and technology which enable improved efficiencies, however, we acknowledge that Intel is battling market scepticism in low-power vs. ARM". Even if Chipzilla does manage to "build a better mousetrap (processor)" that's only half the battle against an entrenched foe. This is what often AMD found, during its battle with Intel dating back to the 90s.