Enthusiasts the world over want to know how well AMD's upcoming line of FX-series processors will overclock, and the chip giant is today providing more than just a taste by announcing a new world record for the "highest frequency of a computer processor".
The record-breaking feat was carried out on an upcoming eight-core AMD FX desktop processor that managed to reach a staggering 8.429GHz under extreme cooling conditions. That's more than double the processor's rumoured operating speed of 3.6GHz, and AMD's new benchmark has ousted the previous best of 8.308GHz on an Intel Celeron chip.
What can we take away from all this? Well, we're getting mixed feelings. AMD's top-end FX CPU, believed to be the 3.6GHz FX-8150, is appearing at US retailers priced at around $260 (roughly £195 including VAT). Sub-£200 pricing for a top-of-the-line part suggests that AMD's latest architecture won't be going toe-to-toe against Intel's heavyweight Sandy Bridge in the all-out performance stakes, but it should offer a generous amount of power for your pound - and that's arguably the metric that matters most to traditional overclockers.
If early pricing indications hold true, an eight-core processor running at 3.6GHz, turboing up to 4.2GHz and overclocking like hell could prove to be mighty tempting at under £200 pounds.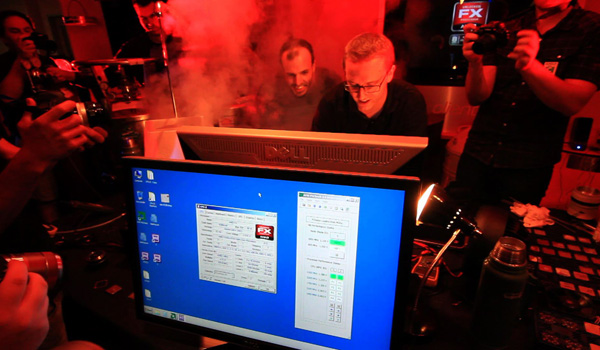 But the jury's still out on baseline performance, and we've yet to see how AMD's newfangled multi-core architecture will play out in the real world.
One things for certain, AMD has the overclocking/enthusiast audience firmly in its sights. This particular world-record-breaking attempt may have taken a couple of days of testing and lots of liquid nitrogen, but AMD openly states that speeds of "well above 5GHz" should be achievable on certain FX CPUs "using only air or sub-$100 water cooling solutions".
Good news for enthusiasts, but here's the bad: AMD has also confirmed that the FX range won't be available to purchase until the fourth quarter of 2011. That's right in line with those mid-October rumours we've been hearing.