Claims have emerged to suggest that we'll be waiting till October, to get our hands on one of AMD's upcoming FX-Series CPUs.
As was intimated yesterday, the chip manufacturer is said to be adding a 4-core FX-4170 variety to the launch line-up, in a bid to make the entire 'Zambezi' family more competitive.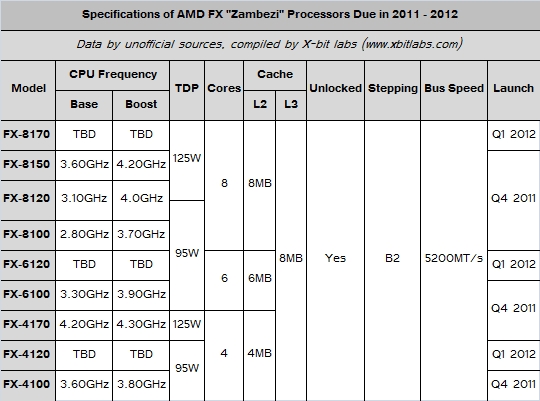 The table above takes a guess at the particulars, and is pretty much in-line with what we've reported on recently. New additions, being the 8-core FX-8170, 6-core FX-6120, and 4-core FX-4120 SKUs, are seemingly pencilled in for Q1 2012.
The only evident explanation for the claimed delay to mid-October, is the company's requirement to build up stock volumes, before getting the FX-Series out of the door.