Information has emerged, claiming to detail supported dual-graphics combinations, for upcoming desktop Llano APUs.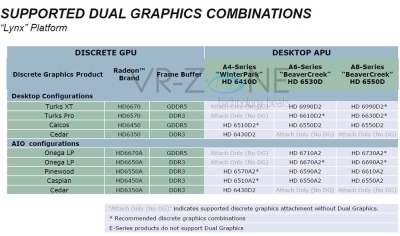 The particulars seem to set out some interesting fusions, notably claiming that the combination of an A8-Series APU - with a Turks XT HD 6670 SKU - could equal HD 6990 D2 graphics prowess. This is perhaps a typo, considering more realistic claims that such a combination, would deliver oomph to the power of an HD 6690.
There are also some instances where the coming-together of a Llano APU and discrete GPU, won't offer any more than an attachment without benefits, but the rest of the table seems to settle in with expectations.
Wrapping-up, there's also an indication as to how AiO systems - using a Llano APU and discrete graphics solution - should tally up.