Next month is going to be a busy one for AMD - if a roadmap claiming to detail the company's upcoming launches is accurate.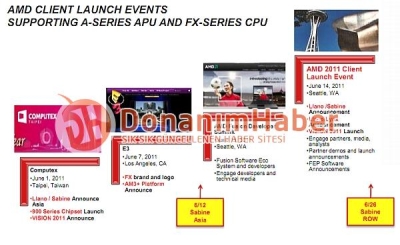 On June 1st - conveniently during Computex - Llano and the Sabine mobile platform will apparently be announced for Asian markets, plus there's supposedly the launch of AMD's 900-series chipsets and details about its VISION 2011 line-up too. With E3 in Los Angeles next up, it's June 7th which will apparently host the unveiling of AMD's FX (Zambezi) desktop CPUs, plus the AM3+ platform.
If it's Llano and Sabine announcements for the rest of the world you're interested in, this is apparently pencilled in for June 14th - during the company's Client 2011 Launch Event, when the Lynx desktop platform is also said to be announced. The relevance of June 12th (Asia) and June 26th (ROW) isn't made clear, yet it's suggested that they refer to actual geographical launch dates for the Sabine ecosystem.