The focus might still be one Intel's recently released Sandy Bridge processors - especially given the problems that came to light last week with the Cougar Point controllers - but now that they're out in the wild, we can start to look forward to what's next.
In line with the company's tick-tock cadence, the next-generation Ivy Bridge CPUs are expected to arrive at some point in the first half of 2012. Although the architecture will be broadly the same as Sandy Bridge, it'll undergo a die shrink from 32nm to 22nm, resulting in smaller chips and increased performance per watt.
Although there isn't much news on exactly what changes the new chips will bring, a few details have started to emerge on some of the likely improvements. One of the biggest will be a DirectX 11 graphics core, combined with the second generation QuickSync video technology. At least in terms of features, the revamped GPU will be able to match AMD's integrated offerings, and media-buffs should appreciate the enhanced encoding and decoding capabilities over the already impressive QuickSync.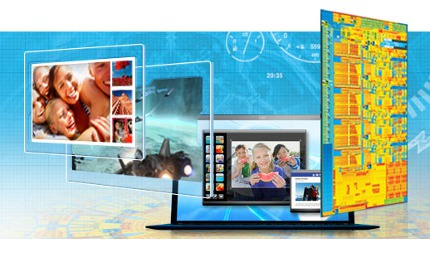 The onboard controllers are also expected to get a boost, introducing native support for 1600MHz DDR3 and PCIe 3.0. Apparently, all of the changes and improvements will add-up to a performance increase of 20-30 per cent over the equivalent Core 2011 processors, in absolute terms.
The best news - at least for early adopters - is that the new processors are expected to continue to use the LGA 1155 interface, making them compatible with current motherboards after a BIOS update. This shouldn't come as a surprise, since the 32nm Westmere/Clarkdale CPUs were compatible with boards designed for 45nm Bloomfield/Lynfield chips, but it's reassuring nonetheless.
Intel's official line for Ivy Bridge is that it'll be available in the first half of 2012. However, given the problems that the company is experiencing with the Cougar Point chipset, it may want to try and ship the CPUs - as well as the associated Panther Point controller - as soon as possible. In that case, we wouldn't be surprised to see Ivy Bridge launch at next year's CES.