With a little over a month to go before Intel officially unveils Sandy Bridge to the world, retailers are already gearing up to start selling laptops based on the new CPUs.
Laptoping has done some snooping around the darker reaches of the Internet and discovered not one but two laptops at different retailers sporting the same unreleased processor. The silicon in question is high-end quad-core Intel Core i7 2630QM, which should provide a lot of power for these 15in notebooks.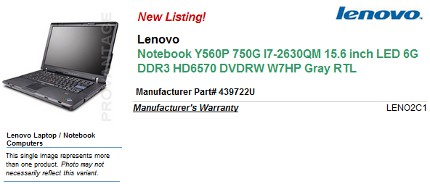 HP has also posted details (courtesy of Engadget) on a third laptop using the processor, showing the 2GHz chip powering an updated Pavilion dv7. Bizarrely, the page also says that the laptop will make use of the current-gen HM55 chipset, but it's probably safe to assume that this is a mistake.
Manufacturer's are obviously champing at the bit to get on-board with Sandy Bridge, but none of these postings reveal any sort of details about the upcoming CPUs. Thankfully, EXPreview claims to have uncovered the specs, prices and release dates of a full range of Intel's desktop chips due to launch in the first half of next year.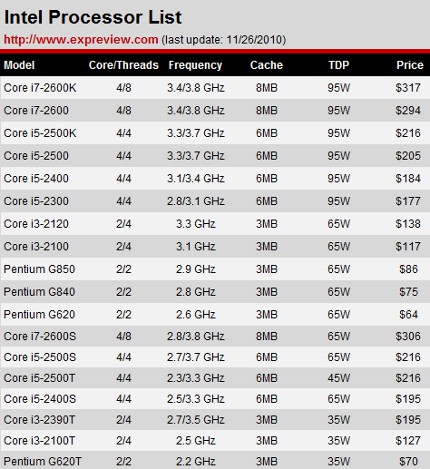 The first useful piece of information is the January 9 release date for the first few Core i5 and Core i7 chips, meaning that Intel will be launching them right as the doors of CES close. The other thing worth noting is the presence of Pentium branded CPUs, due to launch as early as February with TDPs as low as 35W - an impressive number for a desktop processor. Intel has been fairly quiet on its plans for the entry-level branding, so it's interesting to see that it will be carried over for a range of low-cost Sandy Bridge processors.
At this point there isn't a lot that we don't know about Sandy Bridge, so the only thing to wait for is the arrival of the processors in our labs so that we can test them out for ourselves.