Core overload
Intel is looking towards increasing the core count of its next-generation server processors, according to the title of a server seminar due to be delivered during the Hot Chips CPU conference in August 2010.

The chip firm's current flagship Xeon 7500-series CPUs, also known as Nehalem-EX, support up-to eight cores and 16 threads by way of hyper-threading. Designed by to be used in servers with up-to eight sockets, Nehalem-EX competes with AMD's Magny Cours chips in the lucrative premium space.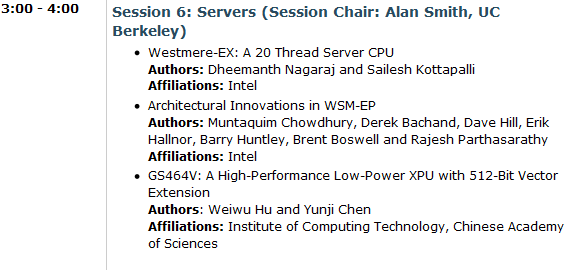 Appearing to extend the high-end Xeon infrastructure, the seminar details what we can presume to be a 10-core, 20-thread chip based on the Westmere-EX architecture. The move to a greater number of cores is facilitated by transitioning from a 45nm to 32nm manufacturing process for Westmere-built Xeons.

Sign in for the best HEXUS experience
LOG IN