Intel has already kicked off a generation of hexa-core computing with its wicked-fast Core i7 980X processor, but for those who don't have the best part of a grand to spare, you might be waiting for the cheaper, less-potent AMD alternative.
Thought to be arriving next month, AMD's first six-core CPUs will arrive in the form of Phenom II X6 parts codenamed Thuban.
Whilst we know they're en route, and likely to be a whole lot cheaper than Intel's first six-core part, we haven't yet had a clear indication of clock speeds - until now. Jumping the gun, motherboard manufacturer GIGABYTE temporarily updated its CPU Support List with two new additions; the Phenom II X6 1055T and Phenom II X6 1035T.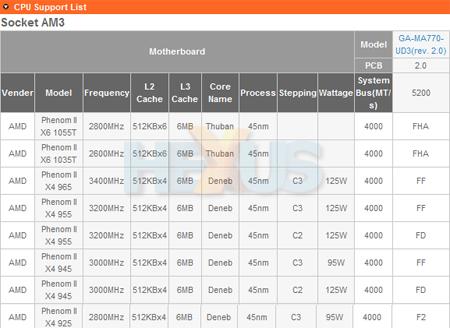 GIGABYTE has since pulled the listing, but AMD's yet-to-be-announced parts have been revealed to be clocked in at 2.8GHz and 2.6GHz, respectively, and despite featuring a total of six physical cores, will be built on the same 45nm process and come equipped with 6MB of L3 cache and 512KB of L2 per core.
There's no mention of a TDP for AMD's upcoming parts, unfortunately, but recent rumours have suggested that both the Phenom II X6 1055T and Phenom II X6 1035T will come in at 95W. Sounds reasonable, considering the seemingly-conservative clock speeds.
Conjecturing somewhat, the rumour mill has also hinted at a 3GHz hexa-core part dubbed the Phenom II X6 1075T. It's said to feature a 125W TDP, and should be arriving late April.
The good news is that all of AMD's Thuban processors are backward compatible with socket AM3. If you're looking to get in on the world of hexa-core computing, one of the above-mentioned CPUs is certainly going to be the cheapest route.