We've been awaiting the arrival of AMD's 12-core Opteron processor, codenamed Magny-Cours, and whilst we've been expecting to hear more details at next month's CeBIT, we weren't expecting to see the parts arrive at retail announced.
Oakville Mehlville Computers, a seller on auction site ebay, has made available a set of four Magny-Cours Opteron processors clocked at 2.2GHz apiece at a buy-it-now price of $7,700.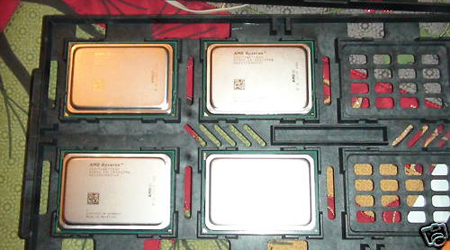 AMD's upcoming 45nm chips, pictured above, feature 12 physical cores, backed up by 6MB of L2 cache and 12MB of L3. Each processor will feature four HyperTransport links and support for registered DDR3 memory.
Those wanting AMD's latest server technology in a pre-built server are also catered for, as the same ebay seller is offering a Tyan AMD Opteron 6174 system equipped with four of the 12-core Opteron 6000-series processors and 64GB of DDR3 memory. The server won't ship until Tyan's quad-socket S8812 motherboard becomes available, but you can place an order now for the tidy sum of $20,000.
Magny-Cours arrives as the successor to the current six-core Opteron range, codenamed Istanbul. Expect further details on the technology behind the Magny-Cours platform at next month's CeBIT.