In case you missed it amid all the developments at this year's IDF, Intel has officially launched its first three Nehalem-derived mobile processors.
The parts, formerly codenamed Clarksfield, have arrived under the Core i7 moniker as the 1.6GHz Core i7 720QM, 1.7GHz Core i7 820QM and 2.0GHz Core i7 920XM Extreme Edition.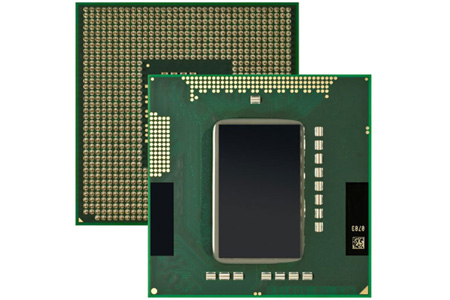 Arriving alongside Intel's PM55 Express Chipset, the mobile Core i7 processors are equipped with new-and-improved Turbo Boost technology, allowing for the 2GHz Extreme Edition to run a single core at an impressive 3.2GHz.
A wave of notebooks equipped with Intel's latest parts have already been announced by the likes of Toshiba and Dell. With no challenger in terms of performance, Intel's Extreme Edition part - priced at over $1,000 in thousand-unit quantities - remains a ludicrously-expensive option and will appear in only premium notebooks. Here's how the three processors compare:
Processor
Core i7 720QM
Core i7 820QM
Core i7 920XM
Extreme Edition
Frequency
1.60GHz
1.733GHz
2.0GHz
Cores
4
4
4
Hyper Threading
Yes
Yes
Yes
Turbo Boost
2.80GHz
3.06GHz
3.20GHz
Manufacturing Process
45nm
45nm
45nm
L3 cache
6MB
8MB
8MB
Thermal Design Power
45W
55W
55W
Pricing (1ku)
$364
$564
$1,054
Official press release: Intel Unveils Fastest Laptop Chips Ever With the New Intel Core i7 Mobile Processor